MBE Combination Course
Enter a zip code where you plan on taking your course:
Your Course—and How It Integrates Into Your Bar Preparation
Start with the Kaplan Bar Review MBE Foundation Course.
This 6-day course helps you develop your Bar Exam "attack plan," and covers the most up-to-date MBE trends. Each day covers one of the six MBE subjects: Constitutional Law, Contracts, Criminal Law and Procedure, Evidence, Real Property, and Torts. Each day:
You'll take an in-class 50-question mini-exam focusing on the most heavily tested areas of that day's subject.
Our faculty will walk you through each of the 50 questions, review the law on which the answer to each question is based, and provide essential strategies and techniques to maximize your test performance.
You'll identify your personal areas of strength and weakness so that you'll be ready to hit the ground running when you get to your General Bar Review Course.
Next take a General Bar Review Course.
Your Kaplan Bar Review MBE Combination Course should be taken in conjunction with a General Bar Review course. Check out Kaplan Bar Review's Complete Bar Review, which includes Kaplan Bar Review's MBE Combination and General Bar Review courses..
Finish with the Kaplan Bar Review MBE Final Review Course.
This 3-day course features a full-day simulated MBE administered under test-like conditions, followed by a substantive question-based review that:
Highlights the finer points of the relevant law typically not covered in your General Bar Review lectures,
Covers the most up-to-date MBE trends, and
Helps you get extra points that can make the difference between passing and failing the Bar.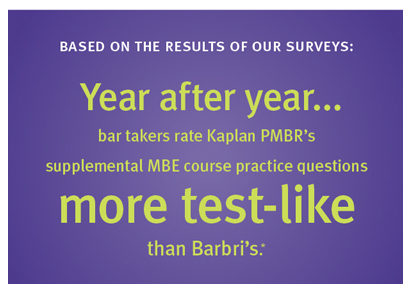 *Survey Results: In Kaplan Bar Review's surveys of its July bar exam students in 2007, 2008, 2009, 2010, and 2011 students who took Kaplan Bar Review MBE Foundation and/or Final Review course reported that they found Kaplan Bar Review's MBE practice questions to be more like the actual MBE than BARBRI's.