MBE Final Review Course
Enter a zip code where you plan on taking your course:
The Kaplan MBE Final Review Course
This 3-day course features a full-day simulated MBE administered under test-like conditions, followed by a substantive question-based review that:
Highlights the finer points of the relevant law typically not covered in your General Bar Review lectures
Covers the most up-to-date MBE trends
Every Point Counts
In most states, the MBE Portion accounts for 40 to 50% of your overall bar exam score
Many who fail the bar exam miss getting a passing score by a small margin
So answering a few extra MBE questions correctly can make the difference between passing and failing the Bar
Don't have time for the MBE Final Review Course?
You can still get more test like MBE questions by buying our Qbank and Audio Lectures.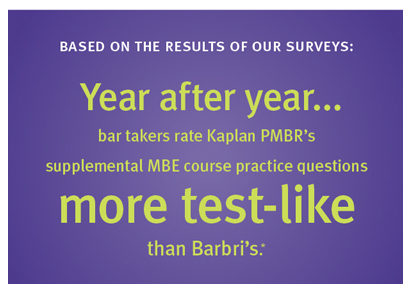 *Survey Results: In Kaplan Bar Review's surveys of its July bar exam students in 2007, 2008, 2009, 2010, and 2011 students who took Kaplan Bar Review MBE Foundation and/or Final Review course reported that they found Kaplan Bar Review's MBE practice questions to be more like the actual MBE than BARBRI's.