MBE Foundation Course
Enter a zip code where you plan on taking your course:
With our online MBE Foundation Course, you'll identify your personal areas of strength and weakness so that you'll be ready to hit the ground running when you get to your General Bar Review Course. We will cover the most up-to-date MBE trends. Each session covers one of the seven MBE subjects: Constitutional Law, Contracts, Criminal Law and Procedure, Evidence, Real Property, Torts, and Federal Civil Procedure. For every topic within each of the 7 MBE subjects, you will receive:
A brief overview of what to expect on the actual bar exam and how it will be tested. You will be given techniques and approaches that are specific to each topic within each of the 7 MBE subjects. Depending on the topic, each overview will take 5 to 10 minutes to watch.
You'll take an exam-like practice quiz that focuses on the most heavily tested areas for each topic. Depending on the topic, the number of exam-like questions in each quiz will vary. Each quiz will take you 20 to 30 minutes to complete.
Our faculty will walk you through each of the exam-like practice quizzes. We will review the law on which the answer to each question is based, and provide essential strategies and techniques to maximize your test performance. Depending on the topic, each quiz review session will last 45 minutes to 1 hour.
How much time should I budget to complete this course?
We recommend that you budget 7 time-slots, one for each MBE subject. You should block out 7 hours for each time-slot.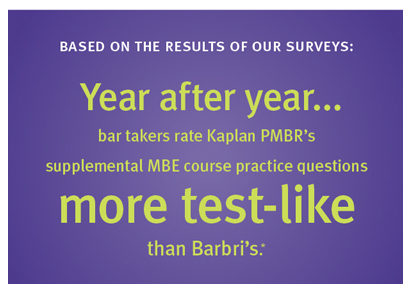 *Survey Results: In Kaplan Bar Review's surveys of its July bar exam students in 2007, 2008, 2009, 2010, and 2011 students who took Kaplan Bar Review MBE Foundation and/or Final Review course reported that they found Kaplan Bar Review's MBE practice questions to be more like the actual MBE than BARBRI's.