The holidays are here and we'd like to show you our thanks with a special offer for you.
Save $150 on all SAT® and ACT® test prep options now through December 17.*
Enter promo code THANKS150 at checkout to save $150 on your purchase.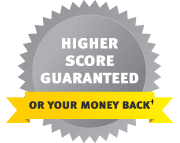 Guaranteed results or your money back.
Confidence is such an important part of your success on Test Day. At Kaplan, we believe that it all starts with your confidence in our programs. That's why we offer the most comprehensive guarantee in the industry. Learn more.