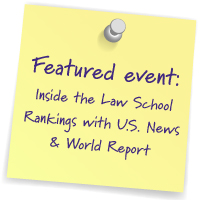 Get an edge. Attend free information sessions—from
anywhere—featuring the country's top law schools.
A law school information session offers more than just program facts; it's an opportunity to score clues on creating a successful admissions package. Kaplan's Free Information Sessions with Top Law Schools go beyond introducing you to representatives from some of the country's best programs - you'll also get access to events that will give you an edge in the admissions process, including an evening with the experts from U.S. News & World Report to help you decipher the ranking system.
Every session is available Anywhere Live Online; you can attend from home, from the office, or anywhere you have an internet connection.