Call 1-800-KAP-TEST
for a complimentary consultation.
2013 LSAT® Summer Intensive
The most concentrated LSAT prep ever.
Ready to do whatever it takes to get a powerhouse score? Then take the LSAT
Summer Intensive Program, with over 300 hours of LSAT immersion. This
residential academic program focuses all your brainpower, energy and attention
on the LSAT.
You'll get individual attention from top-rated LSAT faculty members hand-selected
from our pool of elite instructors nationwide. The program boasts an 8:1
student-teacher ratio, with faculty on call day and night, so you can have access to
them whenever you need them. You'll get all your questions answered for an intensely
personalized prep experience.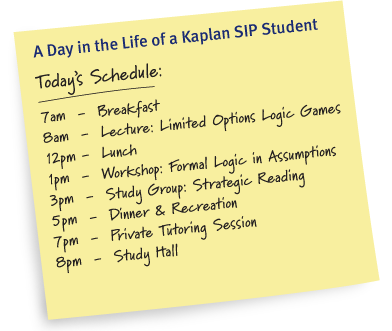 Your life during Kaplan's
LSAT Summer Intensive Program.
Your course structure will include:
30 instructional lectures
6 recent, full-length LSAT practice tests, proctored under realistic Test Day conditions
Small group workshops and study groups every weekday
Twice-weekly private tutoring
Weekly presentations from guest speakers and law school admissions officers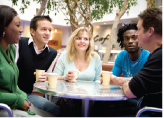 Live and Dine Well
Choose the Housing and Meals option and stay in new, fully furnished apartment-style dorms at Boston University overlooking the Charles River. Breakfast and lunch served daily, plus dinner every day but Saturday. Special dietary needs can also be accommodated.
Take in Boston's Sights
Enjoy one of America's most student-friendly cities. Famous Boston landmarks like Beacon Hill, Copley Square, Faneuil Hall, Fenway Park and the Freedom Trail are all just a "T" ride away—when you're not immersed in hybrid Logic Games!
Why is intense LSAT prep so vital?
Competition for law school is intense—only two-thirds of people who apply actually get in.
Getting the best LSAT prep you can is critical for other reasons, too, including:
More than 60% of law school admissions officers say your LSAT score is the
most important factor in the admissions process*
The average acceptance rate at the top ten law schools
is only 14.5%*
Small score improvements can result in huge gains over other applicants—one
additional correct answer can advance you ahead of 7,000 other test takers
The number one factor in merit-based scholarship awards
is your LSAT score.
Why Kaplan?
More people get into law school with a Kaplan course than with all other major courses combined.* And since your LSAT score is so important, you should trust a leader with these three unique benefits over the competition:
The Most Personalized Prep Available
With an 8:1 student-teacher ratio, our hand-selected faculty will lead you through our arsenal of every released LSAT question—more than 6,500 in all. We'll target your greatest areas of opportunity with our exclusive Smart Reports™ adaptive homework engine to give you personalized recommendations on what to do next.
Unmatched Expertise
Our Summer Intensive Program faculty features some of Kaplan's highest-rated instructors—all J.D.s with over 50 years of combined LSAT teaching experience and 95th percentile LSAT scores. Couple that with Kaplan's exclusive strategies, and you'll have access to truly unmatched expertise.
Guaranteed Results—Score Higher or Your Money Back*
Only Kaplan offers the industry-leading Higher Score Guarantee. Not ready to take the test? Study again with us for free. Not satisfied with your score? Study again with us for free. If your score does not improve, study again with us for free or receive your money back.
*LSAT is a registered trademark of the Law School Admission Council, Inc.
LSAT percentile based on results from the LSAT or the scaled score equivalent on an LSAT released by the LSAC and administered by Kaplan under test-like conditions.
LSAT admissions importance source: Kaplan Law School Admissions Officer Survey, July 2010, 152 ABA law schools interviewed.
LSAT acceptance rate source: US News & World Report, America's Best Graduate Schools, 2011 Edition.
More people claim refers to adults who took the LSAT and a course to prepare for it, were accepted into law school and participated in the survey. The Harris Interactive® online study for Kaplan was conducted between December 6th and 21st, 2007 among 149 US adults who applied to and were admitted into law school, of whom 125 took the LSAT and a course to prepare for it.
Higher Score Guarantee: Conditions and restrictions apply. For complete guarantee eligibility requirements, visit kaptest.com/hsg. The Higher Score Guarantee applies only to Kaplan courses taken and completed within the United States, Puerto Rico, Canada, Mexico, the United Kingdom and France.