More people get into law school with
a Kaplan LSAT course than with all
other major courses combined.*
Our Higher Score Guarantee
If you're not ready for the LSAT or satisfied with your score, take the course again for free. If your score doesn't go up, get every penny of your money back. No other preparer offers you the same depth and strength
of protection. Learn more >
Personalized Study Plan
You'll get an easy-to-follow To-Do list that reflects your performance and assigns custom-designed practice sets.
You won't ever have to ask how you're doing or what to do next. We have those answers nailed for you.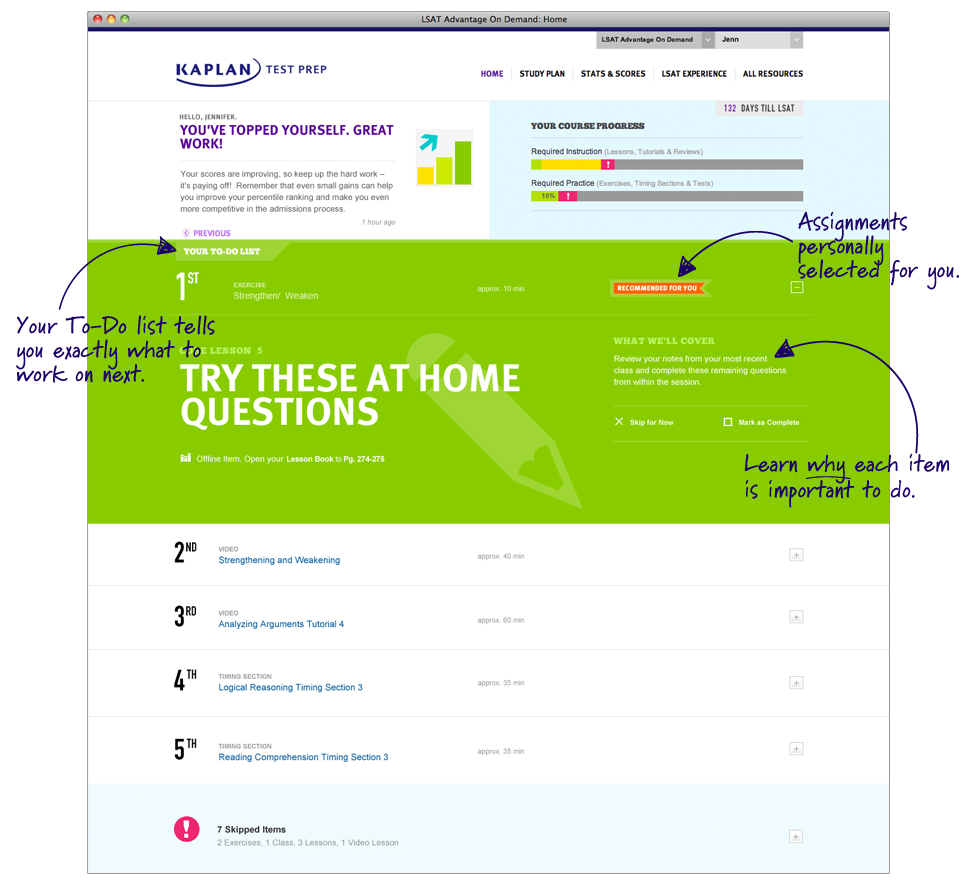 Kaplan's Top Teachers
We've enlisted our most highly-rated and inspiring teachers to demonstrate the key strategies for LSAT problem solving. Our lessons incorporate the same sense of positive energy (and belief in you) for which Kaplan Test Prep training is world famous.
Every real LSAT exam with explanations.
You'll receive a complete set of real LSAT tests, with every single question (over 7,000) explained in depth, along with strategic tips for your next test. Those explanations, unique to Kaplan, teach you how to think like the testmaker.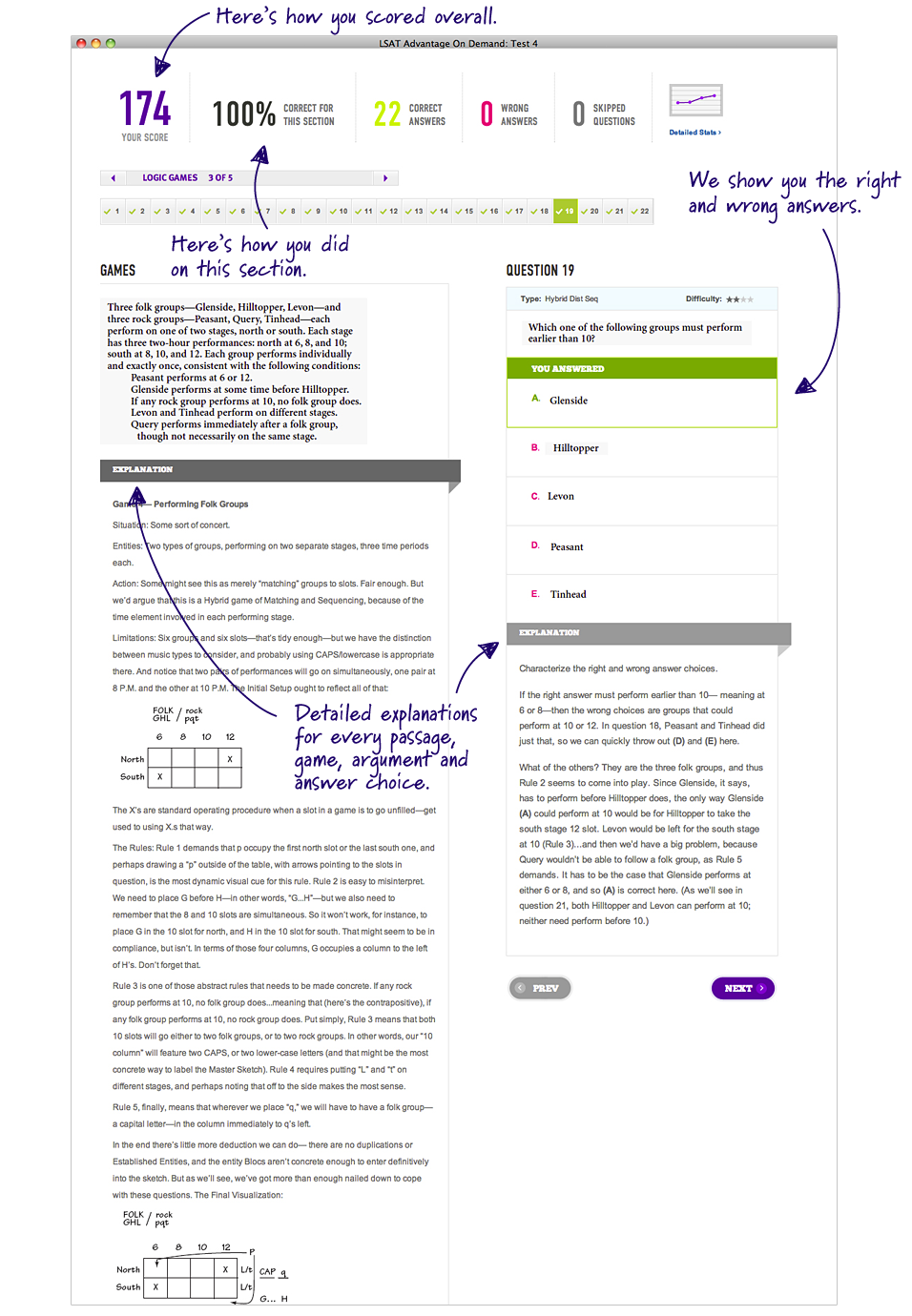 Powerful Reporting Suite
Our exclusive Smart Reports® analytical tool will
help you quickly monitor your progress against your
goals (and against your peers!). Track your progress
against time, as well as by section and question type.
Click buttons to see more
Mobile, On-the-go Review
Wherever you are, all of your study assets—including lessons and real LSAT questions—can be accessed through your iPhone, iPad, or Android device.
On Demand not quite right for you? Here are 3 other great options.
Live instruction through an
online classroom.
Starting at $999
(3 installments of $333)

Live, in-person instruction
at a classroom location.
Starting at $1,399
(3 installments of $467)

One-on-one instruction from
an expert tutor.
Starting at $2,299
(3 installments of $767)

Higher Score Guarantee: Conditions and restrictions apply. For guarantee eligibility requirements, visit kaptest.com/hsg. Proven Track Record: People refers to adults who took the LSAT and a course to prepare for it, were accepted into law school and participated in the survey. The Harris Interactive® online study for Kaplan was conducted between December 6th and 21st, 2007 among 149 US adults who applied to and were admitted into law school, of whom 125 took the LSAT and a course to prepare for it. Teacher ratings based on student responses received from December 6, 2009 – June 6, 2010.
Offer applies to Kaplan Classroom On Site, Classroom Anywhere, On Demand and One-on-One Tutoring new enrollments between September 6th, 2013 from 3:59am to 11:59pm ET only. The maximum discount is equivalent to 20%. Discount may not be combined with any other promotion or offer.