Master the Boards:
Internal Medicine Board Review
with Conrad Fischer, MD
Save 20%* through 8/28 - use code KAP20AUG.
Rock the Boards and then the Wards.
Get the most convenient, high-yield Internal Medicine Board certification and re-certification review available. Developed by top-selling author and celebrated educator, Conrad Fischer, MD.
Live Review Dates
2015 Live Review dates coming soon! Call 1-800-KAP-TEST for more information.
Live Online Review Dates
$1,199
$959.20
(
)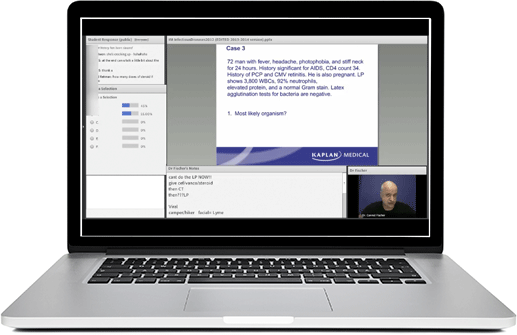 Thanks for a great online live experience. It was very convenient as it did not interfere with work responsibilities and I didn't have to travel to a class (travel and hotel expenses). I feel much better prepared to take the exam.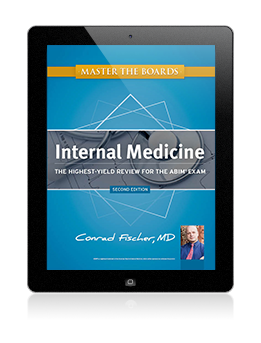 This Internal Medicine Board Review includes:
Expanded content: 54 hours of high-yield review
Lectures delivered by expert faculty: Dr. Fischer and a team of practicing physicians in Internal Medicine who are experts on the IM Boards and will make it stick for Test Day
Real-time answers to your questions in live and live online classrooms
Updated Review Book: print copy and eBook with more diseases, management strategies, algorithms and images
Top-selling Master the Boards: Internal Medicine Board review eBook
Lecture archives: Students enrolled in the Live Online class can access recorded lectures any time, anywhere up to 10 days after class.
Meet the elite team of clinical faculty that will teach your program**:
Conrad Fischer, MD


Christos Paras, DO


Raj Dasgupta, MD


Niket Sonpal, MD



"Simple excellent. My best internal medicine teacher ever."

"Amazing way of teaching makes you remember everything."

"I have been in medicine for many years, and I think he is the best speaker I have ever listened to."

"Best endocrine lecture I have every had."

"Truly appreciate your method of simplification of amidst major confusion!!"

"Good inspirational."

"You are really good in your subject!"

"You are awesome!"

"Wonderful. Great instructor."
*Offer ends August 28th, 2014 and cannot be combined with any other offer or discount and cannot be applied retroactively. Purchases must be paid in full or students must enroll in installment billing plan by December 31, 2014. Installment Billing payment option subject to a one-time, non-refundable $25 fee and will be applied to your first payment.
**Not all teachers will teach in all programs. Review dates, times, locations and faculty are subject to change without notice. Daily class hours might vary slightly.