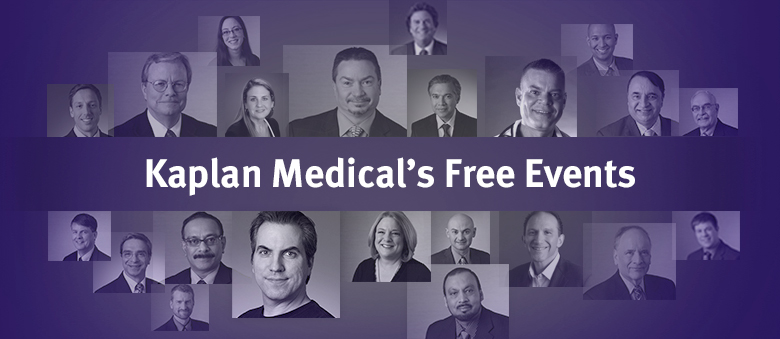 Kaplan Medical offers an ongoing series of free events on our courses, insights on the USMLE
®

, test-taking strategies and residency tips and information. We hope you'll join us either at a Kaplan Medical center near you or via our live, online classroom from wherever you have internet access.
Center Events
Find free events at your local Kaplan Center location.
Live Online Events
Rock with Barone
Pathology for Step 1 Sample lecture
He'll tattoo it to your brain
Rock with Dr. John Barone as he previews our popular Step 1 Classroom Anywhere™ course with a free Pathology lecture. Dr. Barone is known for his high-yield, high-energy classes that are filled with mnemonics and songs to help you Rock the Boards!
Here's what our students are saying about Dr. Barone:
"He is the best teacher any student could ever ask for. Somehow, he makes you want to study harder and do better. I feel blessed that I got that chance to be his student. He puts a lot of effort into teaching and he really cares about his students."
Step 1 Observation Gallery
Physiology with Dr. Wilson
Physiology will finally make sense to you after you learn it from Kaplan's top-rated faculty and Physiology master, Dr. Wilson. Get expert, high-energy review and real-time answers to your questions. Reserve your space now in these 2 free live-online classes and see why students love Dr. Wilson's lectures and our Step 1 Classroom Anywhere™ course.
Manage Your USMLE® Study Time
with Dr. Alice Akunyili
Learn how to manage your study time efficiently with Dr. Akunyili's strategies for success, and get your questions answered in real-time. Sign up today and find out how our experts could help you succeed on the Boards and in The Match℠.
Step 2 CK Observation Gallery
Epidemiology with Dr. Charles Faselis
Join Dr. Faselis for the first two nights of our popular Step 2 CK Classroom Anywhere™ course and get more than 8 hours of high-yield Epidemiology lecture – free. Reserve your space today and boost your score on test day.
Step 3 Observation Gallery
Ob/Gyn with Dr. Elmar Sakala
Join us for these two Step 3 Classroom Anywhere™ classes with the expert instructor, Dr. Elmar Sakala and ace your Step 3. Don't miss 8 hours of high-yield Ob/Gyn lecture —one of the most important subjects on Step 3. Seats are limited, save your spot today.
USMLE® is a joint program of The Federation of State Medical Boards of the United States, Inc. and the National Board of Medical Examiners. COMLEX® is a registered trademark of The National Board of Osteopathic Medical Examiners, Inc. The Match℠ is a registered service mark of the National Resident Matching Program® (NRMP®)
*Data sourced is from first-time taker pass rates for their initial certification between 2008-2012. © 2004 - 2013 American Board of Internal Medicine.