The Results Are In- Second Quarter 2013 NCLEX-RN® Passing Rate
The National Council of State Boards of Nursing (NCSBN) implemented a test plan and passing standard change to the NCLEX-RN® in April, 2013*. As a result, the passing standard increased from -0.16 to 0.00 logits. With this change, the NCSBN noted that they expected the passing rate for first time U.S.- educated nurses to decrease by 3-5%.
The passing rates of first time U.S.-educated nurses to take the NCLEX-RN® between April and June 2013 (the first three months following the passing standard increase) have been announced by the NCSBN. Nationally, 47, 818 applicants took the test between April and June of this year (versus 49,462 in 2012), and 39,689 passed, bringing the pass rate down to 83%. When comparing these passing rates to those of the same time last year (when the passing standard was -0.16 logits), the 2013 passing rate decreased by 9.74%**.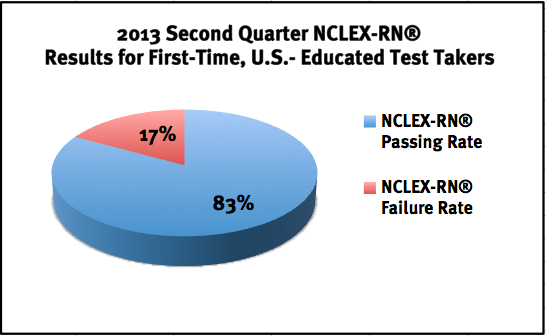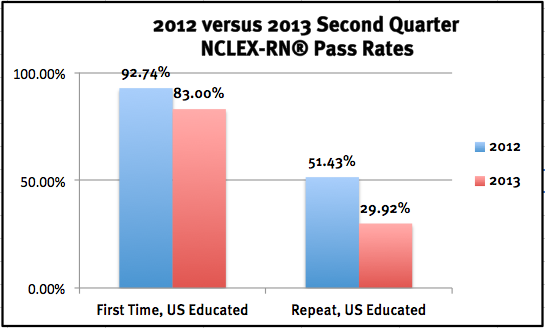 What does this mean for you, your school and your students?
Kaplan Nursing is committed to providing assistance to students, faculties and schools of nursing to maintain and/or improve nursing student NCLEX® results. Watch a webinar by Barbara Irwin, MSN, RN and Executive Director of Kaplan Nursing, who discusses the factors associated with these failures as well as recommended strategies for successful NCLEX® preparation by you and your schools. Please contact us if you have questions or would like to discuss how Kaplan can help you prepare your students for this more difficult version of the NCLEX-RN®.
*National Council of State Boards of Nursing, NCSBN Board of Directors (BOD) Voted to Raise the Passing Standard for the NCLEX-RN Examination at its Meeting on Dec. 17, 2012, https://www.ncsbn.org/4220.htm
**National Council of State Boards of Nursing, Exam Statistics and Publications, https://www.ncsbn.org/1232.htm