The LSAT: Best Study Habits Part I
July 12, 2012
---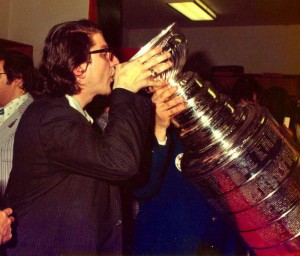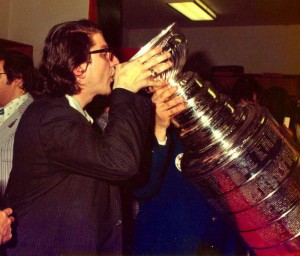 You may be wondering why there's a picture of a man rocking a 70's mullet drinking from the Stanley Cup in an LSAT blog.
Our stylish friend in the picture?  He's partaking of the time-honoured tradition of Stanley Cup winners, drinking champagne directly from hockey's most coveted prize.  As a Torontonian I'd have loved to have provided a picture of a Maple Leaf drinking from Lord Stanley's cup, but I don't think photography was even invented the last time the Leafs won.  So, that picture is from 1974, when the Philadelphia Flyers won.  Those Flyers (affectionately known as the Broad Street Bullies) have a special place in my heart; they may not have been the most talented team in the history of the NHL, but they were certainly among the hardest workers.
The importance of hard work brings us to the LSAT and your LSAT study schedule.
In addition to talking about great study habits, I want to warn you off of some disastrous ones. In this two part series, I'll focus on the "Fearsome Four" and, more importantly, their antidotes.
Bad Habit #1: Timing yourself in the beginning.
There are three levels of LSAT practice: mastering skills, improving timing and improving endurance.  Too many LSAT test-takers start with timing – trying to get faster before they have mastered the skills necessary for increasing their LSAT score.  However, it's vital to start by acquiring a deep understanding of how the LSAT works, something almost impossible to do when you're under the gun.  The savviest LSAT test taker starts by focusing on the minutiae of the exam – the differences among question types, the different methods required for the different sections, the common traps inherent in each question, etc. – before worrying about picking up speed.
Big tip #1:  start with untimed practice, focusing on understanding how the test works.
Bad Habit #2:  Not analyzing Mistakes.
I don't throw out a lot of quotes in the classroom, but here's one from Einstein (who didn't write the LSAT, but who was still a pretty smart guy): "the definition of insanity is doing the same thing over and over and expecting different results."
A very common mistake made by LSAT test takers is to do a bunch of questions, check how many they got right, then immediately move on to the next batch of questions.  Some studiers just take practice LSAT after practice LSAT.  Bad students – no donut!  Thoroughly reviewing all of your work is key to your success on the LSAT.  Not sure how to effectively review your work?
Here are some tips:
If you got a question wrong, identify your error by asking yourself:
Did I fall for a common wrong answer trap?
Did I misidentify the question type?
Did I misunderstand the passage?
Did I misinterpret a rule or formal logic statement?
If you got a question right, ensure future success by asking yourself:
Did I get it right for the right reasons? (or did I just get lucky when it came down to two)
Did I get it right as quickly as possible?
Do I understand exactly what I did and can I repeat it?
The best LSAT studiers spend as much time reviewing as they do answering questions and always end a study session by asking:  What did I learn from these questions that I can apply to future, similar, questions?
Big tip #2:  review, review, review!
Your study habits are critical to your LSAT success.  Hopefully you've found these tips helpful.  Stay tuned for tips Three and Four in Part Two!
---
---
---