Applying to Law School? Stressed? Find help here…
July 19, 2012
---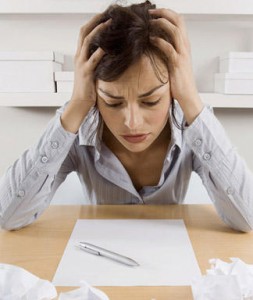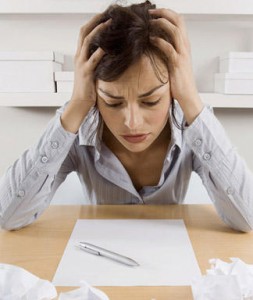 You're carrying a full class load and studying extra hours to keep that GPA up and score well on the LSAT. You're involved in community/volunteer service and extracurricular activities, finals are coming up, you have a part-time job that's looking more and more full-time, or you have a full-time job that's asking for more and more overtime. You have friends and a family, oh yeah, it would be nice to sleep sometime and, you're taking the first step toward your lifelong dream of going to law school. No wonder you're feeling stressed!  Ignoring that feeling won't make it go away, instead, look it straight in the eye and show it you're in charge.
1)       Get Real – The law school application process is stressful all by itself, let alone with everything else you're juggling in your life. To expect it to be otherwise is unrealistic. Don't beat yourself up for feeling overwhelmed, that's a natural reaction to an overwhelming situation. Instead of punishing yourself, go easy and see what you can do to help you get through this process as comfortably as possible.
2)       GIVE YOURSELF TIME! – Contrary to what you may think, or be able to get away with in undergrad school, you do NOT do your best work at the last minute! Applying to law school must be important to you, or you wouldn't be doing it, so give the process all the time it deserves. Months before your deadlines, begin researching and choosing your schools. Once you know the schools you want to apply to, read all of their applications – know the specifics a school wants you to address in your Resume, Personal Statement, Diversity Statement and other essays. These writings are where your voice and experiences can shine and make the unique impression that turns your application into an individual human being. It takes several drafts of your law school Personal Statement to bring out the specific details that will show how special you are and what makes you a great fit with this school. Trying to accomplish this in the week before deadline is not only more likely to end in rejection, but will also cause you stress that could have been avoided.
3)      Take a breath, and MOVE – Are you familiar with the Einstein quote about not being able to shift consciousness in the same state which created it? This same principle applies to feeling stressed. You will not lessen your anxiety by working harder or longer on your applications. Instead acknowledge when you first become aware of feeling stress – is it a knot in your belly, headache, tense shoulders and neck, clenched jaw, impatience, all of the above? Don't ignore these feelings and push yourself to keep working, instead, congratulate yourself for noticing by taking a deep breath, one that fills your tummy, and slowly releasing it. Then do this a couple of more times. You are already starting to shift your stress consciousness.
Now, even though that application is very important, and is right in front of you, and you have to finish, step away from it, and move. Move your body for just 5 minutes. Wiggle like you don't have any bones in your body, dance to your favorite tunes, make up your own moves just to loosen your body and release that tension. Walk around the block, walk around your room, take a few steps in every direction. Move. Want to keep going for another 5 minutes? Good, do it! Now, grab a bottle of water and sit back down with your application. Your refreshed eyes, body, and perspective will help you do your work without the discomfort of stress.
There's no denying that the busyness of your life coupled with the complications of the law school application process are a perfect formula for stress. But it's a formula you can take control of to create an experience that won't get the best of you, but will rather show you at your best.
---
---
---