Essential prep for the AP® exams
Get on the path to AP exam success.
Grades in college prep courses, such as Advanced Placement®, are cited as the most important factor in the college admissions process by college admissions counselors.* Kaplan offers a wide range of resources you can use. Whether you require one-on-one tutoring, live instruction, or flashcards on the go – Kaplan has you covered.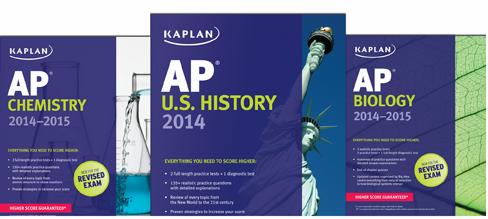 Edge Review Courses
Kaplan's AP Edge Review courses offer an interactive live online, 3-hour session and review taught by Kaplan-certified, expert teachers. Available in our Classroom Anywhere™ live online environment, Kaplan's Edge Review courses can be attended in the comfort of your own home, or anywhere with an internet connection.
Courses available: AP English Language and Composition, and AP Calculus AB
Includes instruction on test-taking strategies and key concepts, timed practice, and in-depth review of answers and explanations
Students get Kaplan's book of key topics, quizzes and practice tests
Access the full course recording for further review
$99 per course
Enroll today to get an Edge on the AP Exams.
Save $50 when you enroll with EDGE49!
Call 1-800-KAP-TEST to learn more.
Premier Tutoring
Get exclusive one-on-one instruction from an outstanding tutor in your home or online at your convenience and on your schedule. Most popular AP tutoring subjects include Calculus, Physics, English Literature, Chemistry and U.S History, but we cover a wide range so call today to learn more.
Kaplan-certified tutors who are experts in the AP exams
Time-tested curriculum backed by research
A personalized program designed to build upon your child's strengths while making significant strides in weaker areas
The right tutor makes all the difference.
Call 1-800-KAP-TEST for a
complimentary consultation today!
Physics Edge on Demand
Designed for serious AP Exam students, Kaplan's AP Physics Edge On Demand program will prepare you for all the key concepts before you take the test. You'll build a solid foundation and lay the groundwork for success on the AP Physics Exam, insuring you walk into Test Day with confidence.
24-7 online access
3 months of access from date of enrollment
Eight comprehensive lessons on the must-know physics concepts
The Physics Edge online lesson book with hundreds of practice questions, including detailed explanation for every answer and explanation
Subjects covered include:

Vectors and Kinematics, Newtonian Dynamics I, Newtonian Dynamics II, Fluids and Thermodynamics, Electrostatics, Electric Circuits Electromagnetism, Waves and Optics
Now only $299 with promotion code
APPHYSICS. Enter at check out!
Enroll Now
Digital Flashcards
Do you have a few minutes at breakfast or before math class? You can sneak in prep on-the-go, including most tested topics and useful test-taking strategies, with Kaplan's AP Digital Flashcards.
You can:
Track your score
Sort cards by subject
Skip cards and return to them later
Remove cards that you know
Randomize card order
Prep on a laptop and mobile devices
Books
Kaplan's best-selling AP Books offer in-depth coverage of every subject exam. Our books also provide practice tests and other prep tools to help push scores to the next level.