Our Step 2 CS Comprehensive Courses
Know what to say and how to say it.
Pass Step 2 CS on your first attempt with Kaplan's Step 2 CS courses. Learn how to quickly build rapport, earn a patient's trust and show empathy. Our expert faculty and standardized patient share years of experience you can't find in a book.
LivePrep
Practice Exam
Live Online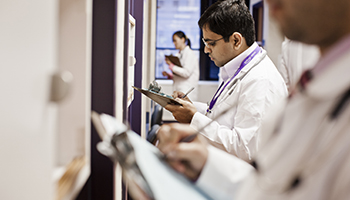 USMLE® Step 2 CS LivePrep
---
Do you learn best with a hands-on, interactive style of prep? Then LivePrep is for you. Receive in-person instruction and feedback from expert faculty and professional standardized patients interact with your peers in a Kaplan Center. This fully-immersive style of learning will make sure you're fully prepared to tackle the Step 2 Clinical Sciences portion of the USMLE and get in-depth training on effective physician-patient communication, conducting patient histories, performing a focused physical exam, and writing concise patient notes.
Enjoy These Unique Benefits:
Discover what you'll score on the actual exam with our fully simulated clinical skills assessment and feedback.
Get trained by the reliable and professional standardized patients on practicing interpersonal skills, history taking, physical exam skills and patient note writing.
Become more comfortable in exam-like surroundings with our well-equipped examination rooms and state-of-the-art audio/visual monitoring equipment
Understand your performance on the three sections of the exam with our personalized computer analysis system: Communication and Interpersonal Skills (CIS), Spoken English Proficiency (SEP), and the Integrated Clinical Encounter (ICE).
Receive personalized attention through small group coaching in effective physician-patient communication.
Discover how to make a differential diagnosis quickly and accurately in our small group patient history training.
Learn the best way to conduct a physical based on the patient's complaints.
Get our Step 2 CS Lecture Notes full of clinical correlations and bridges between disciplines.
Full-service from our center staff. If you have questions or need assistance, we are here to help you during your lectures so that you can focus on what matters most: passing USMLE Step 2 CS exam on your first attempt.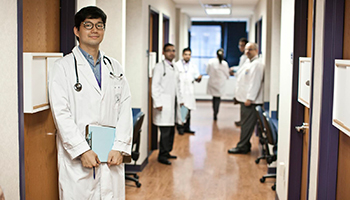 USMLE® Step 2 CS 1-Day Practice Exam
---
Succeed on the USMLE Step 2 CS with our 1-day practice exam.
What you get:
With the practice exam, experience the USMLE Step 2 CS first-hand and get the realistic practice you need to test with confidence. You'll practice under exam-like conditions with 11-12 standardized patient encounters, followed by a detailed performance analysis report with feedback.
Enroll today! Call 1-800-KAP-TEST to speak with an advisor now.
If outside the U.S. or Canada, please call 1-212-997-5883.
USMLE® Step 2 CS Live Online
---
Enhance your preparation for Step 2 CS with our exclusive Live Online course — now available from your home, office or anywhere internet access is available. You'll get live, interactive instruction from our expert faculty as they guide you through over twelve hours of lecture and video.
What you get:
Get step-by-step review of all tested components including tips for exam room etiquette, Patient notes, and strategies for passing the exam. You'll also review video of full-length encounters with certified standardized patients.
Submit answers to questions and receive live feedback from our instructors, ask all of your questions via live chat, and compare your performance with that of other students.
Attend four, 3-hour sessions focused on Step 2 CS exam content
Submit questions live to our faculty
Vote on correct answers
Enjoy the convenience and flexibility of Live Online instruction
Step 2 CS Live Online Options
Enroll today! Call 1-800-KAP-TEST to speak with an advisor now.
If outside the U.S. or Canada, please call 1-212-997-5883.