Countdown to Match Week 2017
How do you become a licensed physician in the U.S.?
As a medical expert, you've faced a lot of challenges, but now you have a new one: becoming a licensed physician in the United States. How will you do it?
As an International Medical Graduate, it'll take at least three years to complete a residency program in a U.S. hospital and that's not to mention the exams beforehand.
The path isn't short, but every step of it is covered here.*
Registering with ECFMG®
Before you make a move, let the world know you're ready.
Before taking your exams, you have to register with the ECFMG. Doing so ensures that you are fit to enter graduate medical education (GME), better known as residency. All eligible GME programs are licensed by the ACGME (Accreditation Council for Graduate Medical Education).
Taking the USMLE®
Any great adventure starts with the first step.
The United States Medical Licensing Examination (USMLE) is actually four exams administered over three steps. You must complete them in order to practice medicine in an unsupervised setting. Your performance on the tests will go a long way to determining your future as a resident.
One-day exam
308 multiple-choice items divided into 7 blocks of 44 items
60 minutes allotted for completion of each block of test items—on test day, examinees have a minimum of 45 minutes of break time and a 15- minute optional tutorial
Tests the basic sciences and assesses whether you understand and can apply important concepts of the sciences basic to the practice of medicine, with special emphasis on principles and mechanisms underlying health, disease, and modes of therapy
Minimum passing score: 192
One-day exam
A multiple-choice test with up to 45 questions in each block
Designed to assess students' abilities to apply medical knowledge in a supervised setting with "emphasis on health promotion and disease prevention"*
Minimum passing score: 209
One-day exam
A live test made up of twelve 15-minute patient encounters
Tests students' abilities to be "patient centered, to address the diagnostic challenges posed, to prepare the patient for next steps, and to document the encounter appropriately"*
This exam is pass/fail
By completing Steps 1, 2 CK, and, 2 CS, you are ECFMG certified. That means you're eligible for the National Resident Matching Program® (NRMP®). The NRMP is the service that matches eligible medical school graduates into residency programs.
How long should you prep for each Step? Download your Road to Residency Calendar.
USMLE Step 3®
When should you take it?
You can take Step 3 before you apply for residency, but you don't have to. Doctors often take it as first-year residents.
Administered over two, non-consecutive days
Assesses whether students can apply and understand biomedical and clinical science concepts, and focuses on patient management in ambulatory settings
The final examination in the USMLE sequence, which leads to a license to practice medicine without supervision
Minimum passing score: 190
International medical graduates (IMGs) comprise of the U.S. physician workforce.*
NRMP (The Match℠)
The finish line is in sight.
After the USMLE, you'll submit to match through the Electronic Residency Application Service (ERAS®), administered by the American Association of Medical Colleges (AAMC).
A complete ERAS® submission includes:
MyEras applications
Letters of recommendation
Medical School Performance Evaluations (MSPEs)
Medical school transcripts
USMLE transcripts
Personal statements to the directors affiliated with your specialties in the hospitals you've selected
Residency Interviews
What are programs looking for?
To be a competitive applicant in the NRMP® Match, you must prove you're a fit. The process is wildly competitive, but not hopeless. Based on the NRMP Program Directors Survey in 2014, here are the top 5 factors* program directors considered when selecting applicants to interview:
A competitive USMLE® Step 1 score

An excellent letter of recommendation from a U.S. physician in the specialty to which you're applying

Your completed Medical Student Performance Evaluation (MSPE) and/or Dean's Letter

A competitive USMLE® Step 2 CK score

A strong personal statement**

**Just because your personal statement is last, doesn't mean it's not important. Put care into it as well.
Rank Order Lists
Where do you see yourself?
After interviews, it's time to submit a Rank Order List (ROL). A ROL is a ranking of the places you'd like to train as a physician. Consider your list carefully. If everything works out, you'll be with the program you choose for several years.
Program directors submit Rank Order Lists, too. Their lists account for applicants' interview performances, so it's important to leave a good impression. The NRMP® will then post a list of matched applicants during Match Week.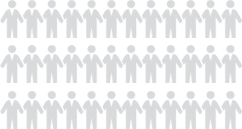 It's March. Welcome to Match Week!
On Monday of Match Week you will receive an email notifying you if you've matched or not. If you've matched, you will receive the details regarding the hospital and the program by Friday. Congratulations!
If you haven't matched, you may only apply to unfilled Match-participating programs for which you are eligible.