The Top 10 Ways to Get the Most out of Your College Visits
June 9, 2014
---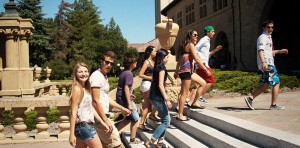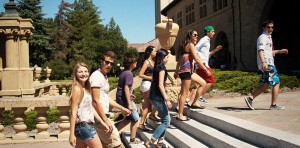 Out to discover the college of your dreams this summer?  Whether you are flying out to visit a few schools or taking a cross country road trip to visit colleges around the country, we have the Top 10 things you need to do to make the most of your college visits.
1. Have a plan! Sounds simple enough, right? You want to make sure you map out each visit to maximize your time there. What do you hope to accomplish while on your visit? What do you want to see? Set goals, think of what you want to know about the colleges you are visiting, and write it all down. Having a plan in place will make you feel less overwhelmed once you set foot on campus.
2. Connect with students you may know who attend the colleges you are visiting. Whether you chat with them before you go or plan to meet with them on campus (some may be taking summer classes!) you will want to get the perspective of a current student.  What do they like about the school? What is student life on campus like? What are some challenges they may have faced there?
3. Explore academic departments. You'll want to see what majors and areas of study colleges have to offer. Do they meet your needs? Is the area you want to study a strong department at the colleges you are visiting? How big are the classes and how are they structured? Classes can range from very small discussion groups to very large lecture courses and everything in between. This is a great thing to discover while you are on your college visits.
4. Visit the student union. This is where you may be spending a lot of your time. From buying books here, to eating, studying, and hanging out with your friends – this is an important building for you to check out when you get on campus.
5. Check out the student cafeteria. OK, we are not saying you need to eat here! Although, if you can that may be a good idea. You'll want to know if that meal plan is worth it or not, and what college dorm food is really like. If nothing else, it will make you appreciate your mom's home cooked meals that you may have complained about your entire childhood!
6. Pick up a copy of the student paper. This is a great way to learn about what is happening on campus. From academics, to student groups, to events – this will have all the info you need to feel in the know.
7. Document your visit. Take pictures of what you like – and don't like – while you are on campus. Having visuals can help you remember your visit more vividly after you are home.
8. Check out the libraries and computer labs. You will likely be spending a lot of your time in these two places so why not get a feel for what it may be like to pull an all-nighter studying for your first semester finals or writing that paper at 2am.
9. Rough it in the dorms! Well, you won't exactly be roughing it…If you can, arrange to stay in the dorms, or, at the very least, make sure to visit the dorms. You'll want to see where and how you may be living come freshman year.
10. Make a Pro/Con List.  Make sure to write down at least 3 positives and 3 negatives before you leave campus. At the end of all your visits, it may be difficult to remember the differences between all of them.
Happy Trails!

---
---
---