Business Schools Explore How to Use Integrated Reasoning in the Admissions Process
March 14, 2013
---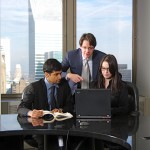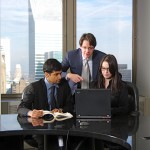 Last summer, the GMAT made the most major change to its format in 15 years by replacing one of the essays with the Integrated Reasoning (IR) section.  Since then, GMAT test-takers have been wondering how IR impacts their b-school applications.  As it turns out, business schools are wondering exactly the same thing.
In the IR section of the GMAT, test-takers evaluate data in graphs, spreadsheets, and charts, similar to the materials they will eventually see in business school.  In theory, IR can better assess students' ability to perform the tasks expected of them in business school and the work world.  Nearly a year after the inclusion of IR, the Graduate Management Admission Council (GMAC), who administers the GMAT, and business schools nationwide are taking the first steps to determine what role IR should play in the admissions process.
Bloomberg Businessweek recently reported that business schools across the country are actively assessing the significance of IR performance on students' eventual success in business school.  While IR isn't currently being given much weight in the admissions process, largely because many applicants took the GMAT before the test change and therefore do not have IR scores, business schools are analyzing IR data to get a better understanding of the role it will eventually play in admissions.  Dan Poston, of the University of Washington's Foster School of Business, states, "We want to see how it [IR] plays out…We want to see how predictive it is of student's success at school."
GMAC has released some key data on the IR section, based upon results of the more than 123,000 test-takers who have taken the GMAT since IR was added to the test.  GMAC reports that the distribution of scores is normal and without bias against any subgroup of test-takers.  In short, these results suggest that IR has the potential to be a valid predictor of student success in b-school.
In addition to analyzing data from GMAC, some schools are directly studying the connection between IR and student performance.  For instance, at Vanderbilt University's Owen Graduate School of Management, a group of 60 second-year students will complete the IR portion of the GMAT.  Their IR scores will then be compared to their success in core courses in order to determine whether IR performance positively correlates with b-school performance.
The obvious question for GMAT test-takers is how they should approach IR in order to put together the best application package possible.  While IR may not play a major role in the admissions process for the next few years, a solid IR score can only help applicants.  As Dawna Clarke of Dartmouth College's Tuck School of Business notes, "IR will help prospective students more than it will hurt them…If you are not 'quant strong,' but you have strong IR skills, then this test will help you shine."
---
---
---