Bring It On: Obama Advocates Two Year Law School
August 26, 2013
---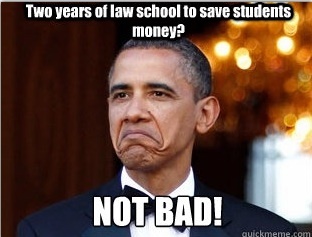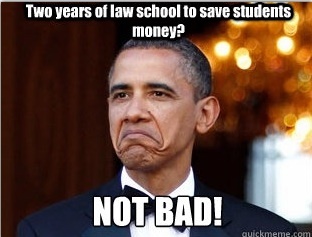 So much for slow news days on summer Fridays. As you probably heard, this past week during an education forum in upstate New York, President Barack Obama addressed a question that many pre-law students, law school students, awesome pre-law blogs and members of the legal education community have also been discussing: how can we make law school more affordable? The president (who is, remember, a Harvard Law School graduate and former law school professor), didn't mince words. In fact, he pretty much throws down:
"This is probably controversial to say, but what the heck, I'm in my second term. Law schools would probably be wise to think about being two years instead of three years. In the first two years, young people are learning in the classroom. The third year, they'd be better off clerking or practicing in a firm, even if they weren't getting paid that much. But that step alone would reduce the cost for the student. Now, the question is, 'Can law schools maintain quality and keep good professors and sustain themselves without that third year?' My suspicion is, is that if they thought creatively about it, they probably could."
This is big news– and a great move in the right direction. Will the President's opinion alone spur further reform among today's ABA-approved law schools? Knowing how notoriously slow the ABA is to change law school curricula, probably not, but it is a huge boost in the viability of the tuition lowering conversation. More public awareness means increased pressure on law schools to make your legal education more affordable- whether that means actually shaving a year off or cutting tuition. Some law schools are already ahead of the curve or trying to get there.
Transforming law schools into two year programs would be highly controversial; many claim that such a change would prove overly disruptive to law schools' own finances and law school professors' careers, but some faculty have already stated that they would welcome the change.
What does this mean for you in the immediate future? Let's face it. You cannot think about going to law school these days without thinking about how to pay for it. It's not just about getting into law school – it's about getting into a law school that will give you good career options, even if it's not in the top tier. As fulfilling as the law school experience and holding a JD can be, there's no caché in $40,000 of debt and the inability to land a job with economic security. So how can you reduce the costs of law school right now? It can start with the LSAT – scoring well on it can lead to merit-based financial aid in the form of grants. Grants, unlike loans, don't have to be paid back (best perk ever). Bigger picture, it's about putting together the strongest application possible, but given the importance admissions officers place on an applicant's LSAT score, it's where you have to start.
There are changes coming in legal education, and some have already started. We'll continue to let you know any relevant news- in fact, you can expect some Kaplan Test Prep proprietary data on this very topic when we release results from our 2013 survey of law school admissions officers this fall. Stay tuned, and let us know: what is your opinion? Do you think law schools should become two years instead of three years? Sound off below.
[cf]skyword_tracking_tag[/cf]
---
---
---