Kaplan Test Prep Survey: The Future of Affirmative Action May Be in Question, But Pre-Med Students are More Decisive — 80 Percent Want a More Diverse Medical Profession
Note to editors: Kaplan is a subsidiary of Graham Holdings Company (NYSE: GHC)
Press Contacts: Russell Schaffer, russell.schaffer@kaplan.com, 212.453.7538
Twitter: @KapTestNews, @KaplanMCATPrep
New York, NY (April 15, 2019) — A new Kaplan Test Prep survey of over 245 pre-med students finds that 80 percent say it's important for the American medical profession to be more demographically representative of the general patient population*. This strong show of support for diversity comes on the heels of Texas Tech University Health Sciences Center's decision to no longer consider race or national origin as a factor in admissions, as part of an agreement with the U.S. Department of Education's Office of Civil Rights. This caps a 14-year investigation that began in 2004 when a complaint was filed against Texas Tech's medical school's admissions practices.
Students who are in favor of a more demographically representative medical profession shared the following opinions:
"While it is certainly possible to be empathetic and 'tuned in' to your patients despite differences in language, culture, etc., it is important for patients to feel like they can relate to and trust their clinician…If American clinicians were more demographically representative of the population as a whole, patients would likely find it easier to connect with a care provider they are most comfortable with."

"I'm not a fan of the oftentimes patriarchal nature of medicine, and I really believe that having more medical professionals who are like the general patient population rather than the already privileged subset of the United States will foster a better doctor-patient understanding and relationship."

"I think it would be best if medicine was representative of the general population, but at the very least, doctors should be culturally competent and trained in unconscious bias."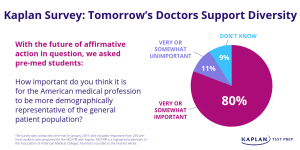 One student who was not supportive of more diversity in the medical profession shared, "I think if you have the drive and passion for medicine it should not matter your race." Another added, "I think that qualifications and ability should be more important than what someone looks like."
In a separate Kaplan survey, medical school admissions officers largely gave medical schools as a whole above average marks on the topic of diversity, in relation to recruiting and admitting students from different backgrounds**: 18 percent awarded an "A" grade, while 35 percent gave themselves a "B." Thirty-four percent gave medical schools a "C," while 2 percent assigned a "D" and 3 percent an "F."
This comes at a time when the number of black men entering medical school remains slightly down compared to 1978 (1,410 in 1978 compared to 1,337 in 2015), even as the number of black men earning college degrees has grown. Of the medical schools surveyed, 82 percent say they are concerned about this trend and more than half (55 percent) say their school has a specific program to help recruit more African American male students. The most often cited initiative was pipeline programs with colleges and high schools to nurture an interest in medicine as early as possible.
To help in these efforts to diversify the medical profession, Kaplan Test Prep partners with over one hundred such pipeline programs — both at medical schools and colleges — across the United States.
"The topic of diversity in medical school and the medical professional remains an important conversation to have, particularly as a time when not only the demographics of the United States are changing, but also the demographics of those who have access to healthcare," said Petros Minasi, director of pre-medical programs, Kaplan Test Prep. "Our students overwhelmingly think more diversity in the medical profession is important, not only from the standpoint of equality, but also because they think it will benefit individual doctor-patient relationships. As the role of affirmative action in the medical school admissions process evolves, we'll be tracking admissions officers' and pre-med students' views on the issue. We are sure they'll have much to say."
For more information about Kaplan's survey or to schedule an interview, please contact Russell Schaffer at 212.453.7538 or russell.schaffer@kaplan.com.
MCAT® is a registered trademark of the Association of American Medical Colleges. Test names are the property of the respective trademark holders, none of whom endorse or are affiliated with Kaplan.
*The e-survey was conducted in January 2019, and included responses by 245 pre-med students who prepared for the MCAT® with a Kaplan course.
**The survey was conducted by phone between August and September 2018 of admissions officers at 67 accredited medical schools in the United States and Canada.
About Kaplan Test Prep

Kaplan Test Prep (www.kaptest.com) is a premier provider of educational and career services for individuals, schools and businesses. Established in 1938, Kaplan is the world leader in the test prep industry. With a comprehensive menu of online offerings as well as a complete array of print books and digital products, Kaplan offers preparation for more than 200 standardized tests, including entrance exams for secondary school, college and graduate school, as well as professional licensing exams for attorneys, physicians and nurses. Among those tests are the SAT®, PSAT®, ACT®, GRE®, GMAT®, LSAT®, MCAT®, NCLEX-RN® and bar exams. Kaplan also provides private tutoring and graduate admissions consulting services.
# # #