Need help? Call 1-800-KAP-TEST
College Prep Resources
---
Kaplan's comprehensive test prep books are a great starting point and study resource while you're preparing for the SAT® or ACT®.
Test taking strategies, practice and review.
In addition to full-length practice tests, our test prep books include content reviews for each section of the tests and offer some of our best test-taking strategies and tips.
ACT Premier 2016­-2017 with 8 Practice Tests
---
Kaplan's comprehensive ACT test prep book provides proven test ­taking strategies, realistic practice tests, in-depth guided practice, video tutorials, and access to an online center so that you can score higher on the ACT-guaranteed.
Buy on Amazon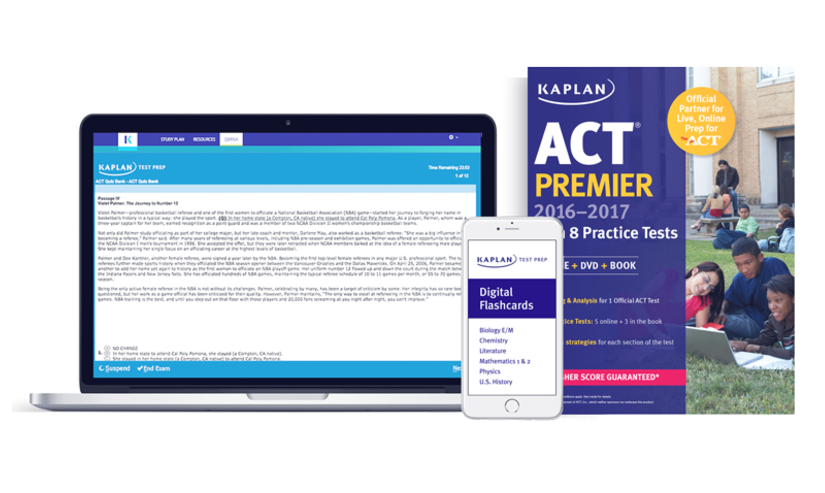 What's included:
---
Realistic Practice: 8 full­-length practice tests with detailed answer explanations: 3 in the book, 5 online
Online Center: online practice tests, quizzes, and videos to help guide your study
SmartPoints: a Kaplan­ exclusive strategy that identifies the most popular topics and question types on the exam, allowing you to focus your time appropriately and earn the most points on Test Day
Scoring and Analysis for 1 Official ACT Test
Perfect Score Tips: advice and strategies from students who got a perfect score and top ACT instructors
Video Tutorials: Kaplan's best tutors review the most important concepts in short video tutorials
SAT Total Prep
---
The biggest book available for SAT practice, strategies, and review!
Our SAT prep books also include DVDs with video tutorials from our expert teachers and access to our online test centers where you'll find extra practice questions and additional Kaplan resources.
Buy on Amazon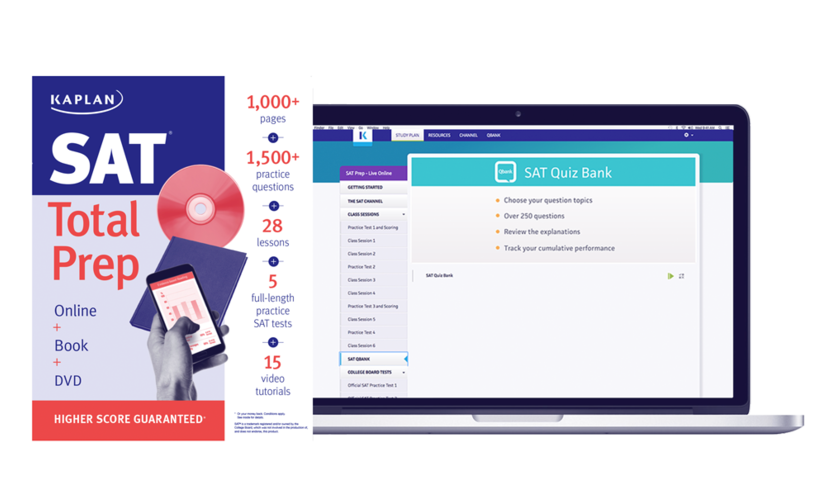 What's included:
---
5 full­-length practice SAT® exams: 2 in the book, 3 online
1,500+ practice questions
Full answers and explanations for each test
Scoring, analysis, and explanations for 2 official SAT Practice Tests
Content review, and practice for each of the 4 parts of the SAT: Reading, Writing and Language, Math, and the optional SAT Essay
Online center with one­-year access to additional practice questions and prep resources
Information, strategies, and myths about the SAT
DVD with expert video tutorials from master teachers
Explore Kaplan's SAT Subject Test Prep Books
Learn more