Everything you need to master the test
We'll help you get to a higher score and more confidence on Test Day.
Ends Thursday, September 28.

Need help? Call 1-800-KAP-TEST
AP® Exam Prep
---
Choose between our best-selling AP books and one-on-one tutoring by experts in the AP Exams.
Get on the path to AP exam success
---
A top score on your Advanced Placement exam can earn you college credit and a leg up with college admissions. Kaplan has your back as you prep for your AP exams. Our one-on-one tutoring options, comprehensive books, or easy-to-use flashcards help you prep smartly.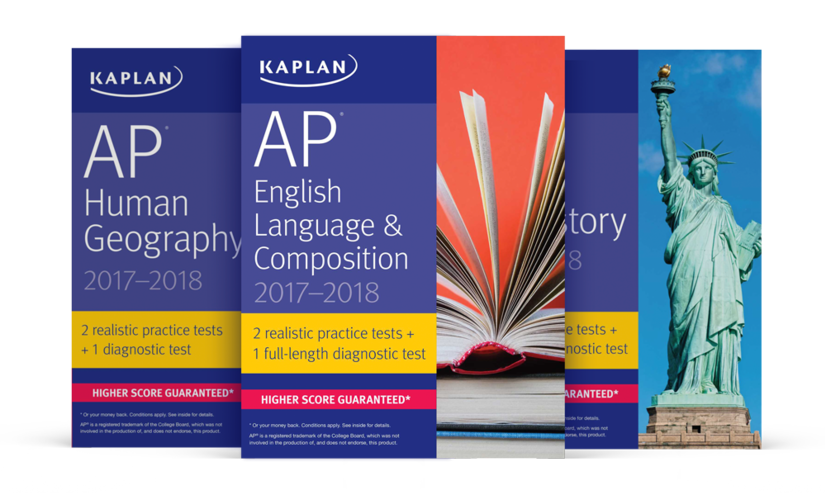 Pick the books you need
Kaplan's best-selling AP prep books give you the strategies and details you need to succeed on all subject tests. Get practice tests, detailed answer explanations, a removable study sheet to track your prep, and more.
| | |
| --- | --- |
| AP U.S. History 2017-2018 | |
| AP English Language & Composition 2017-2018 | |
| AP Human Geography 2017-2018 | |
AP Exam Premier Tutoring
---
One-on-one instruction from a top tutor will take your prep to the next level. Schedule your tutoring at your convenience, online or in person. Our tutors can help you ace the AP US History, Human Geography, English Language & Composition exams, and other subjects.
Contact us today to find the right tutoring package for you.
Call 1-800-KAP-TEST
CUSTOMIZED
Study Plans based on your strengths and weaknesses.
EXPERIENCE
We've successfully helped millions of students since inventing test prep in 1938.
RESULTS
9 out of 10 Kaplan students get into one or more of their top choice colleges.*
ASSURANCE
Score higher or your money back guaranteed.†