Products That Work with You
A Kaplan Exclusive.
Strengths and weaknesses—we all have them, but yours will be different from other students and they'll change as you progress through your NBDE prep. That's why, at Kaplan, we've designed our courses to provide ongoing, personalized learning based on your specific needs.
---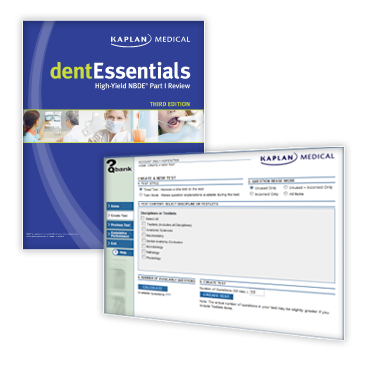 You will achieve your best possible score with a plan that works with your schedule and your level of experience.
You can make use of CenterPrep, which includes videos, additional practice test and released exams. The center materials are available during the center hours of operation while the online portion is available 24 hours a day, 7 days a week, wherever you have internet access.
You may prefer Qbank and the Lecture Notes or dentEssentials for a less extensive course. You can use Qbank 24/7 from any computer with an internet connection. There is no software to download. Take advantage of the personalized "bank statements" that graphically display performance by discipline and organ system. The lecture notes offer a very comprehensive review with proven test strategies while the dentEssentials design allows for a unique level of integration between the disciplines in a high-yield review.
With any of our programs, you can target your weaker areas directly, thereby saving invaluable time and money. Since you can assess your performance throughout, you can adjust your study patterns for faster success.