English as an Additional Language (EAL)
As the American population continues to diversify, multilingual nurses are in increasing demand. However, it is also well-documented that students who are non-native English speakers can struggle in nursing school, where every assignment may be a test of English language competency. Gilchrest and Rector (2007) reported nursing school attrition rates for EAL students to be as high as 85%. We also know these students struggle with NCLEX®-style questions. Bosher and Bowles (2008) identified a 40% disparity in NCLEX® pass rates between EAL and non-EAL students. By partnering with renowned EAL researcher, Susan Bosher, PhD, Kaplan Nursing was able to design a first-of-its kind linguistic modification tool built on these studies called Plain English for Nurses. In line with Bosher's research, struggling students are presented with questions that test identical content using simpler, more direct sentences, which reduce reading load and improve successful question completion (2008).
How does Plain English for Nurses work?
Plain English for Nurses is a tool available in the Focused Review remediation area. Upon completing a Focused Review test, students are able to access question-by-question remediation.
With this tool, the alternate wording of the question is modified to omit any clauses, wordy sentences, confusing verbiage, or compound sentence structure so that students can see the question in "plain" english. Because Plain English for Nurses is only available after the student takes the test, it is a great tool for students to confirm if they missed a question because of the nursing content or the wording. To help improve reading comprehension, the original and alternate questions are placed side-by-side, allowing students to easily compare and contrast the two versions. Over time, EAL students will become familiar with the way NCLEX®-style questions are written, so when they encounter the structure on a future test item, they will have a higher level of understanding.
Sample Image: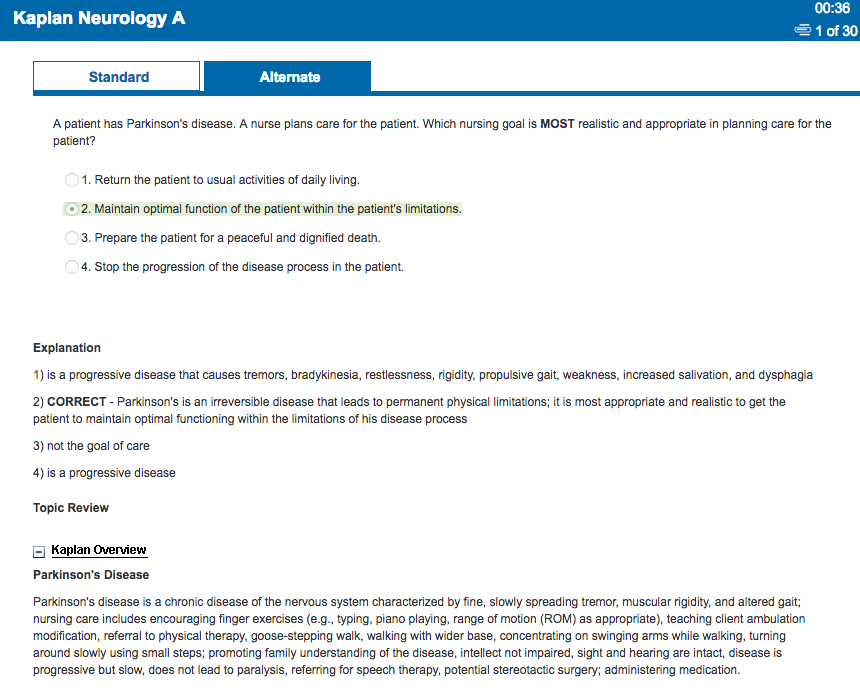 Bosher, S., & Bowles, M. (2008). The effects of linguistic modification on EAL students' comprehension of nursing course test items. Nursing Education Perspectives, 29(3), 165-172.
Gilchrist, K.L., & Rector, C. (2007). Can you keep them? Strategies to attract and retain nursing students from diverse populations: Best practices in nursing education. Journal of Transcultural Nursing, 18(3), 277-285.
The Mind Behind Plain English for Nursing
Dr. Susan Bosher is one of the world's foremost experts on the relationship between nursing and language. She is a professor and the director of EAL at St. Catherine's University. She is also the author of several books, including English For Nurses: Academic Skills and Transforming Nursing Education: The Culturally Inclusive Environment.
Kaplan Nursing: Education with a purpose
Connect with a Kaplan representative and experience the Kaplan difference