Kaplan Course Solutions
Expand and strengthen your program with ease!
Imagine if you could easily:
Fill vacancies for faculty on leave or sabbatical
Secure expert faculty for hard-to-cover subjects
Expand the course selection you offer your students
Boost enrollment by offering additional class sections
Jumpstart online learning capabilities, for anywhere student access
All without the need to recruit, hire, onboard and manage additional faculty or increase overhead costs.
Kaplan Course Solutions provides white-label courses that seamlessly integrate into your school's curriculum, offering a diverse catalogue of courses that compliments your current offerings. We take the most experienced, top-rated faculty from around the country and live stream their instruction directly to your students, wherever they are, making it possible to scale to hundreds of students at a time.
The platform includes the ability to live chat faculty and teaching assistants during the class to help answer questions in a message board format. And if students have to miss the class for any reason, they have 24/7 access to the recorded lectures. Assessments can be proctored remotely and faculty have access to advanced reporting tools to monitor how students are doing.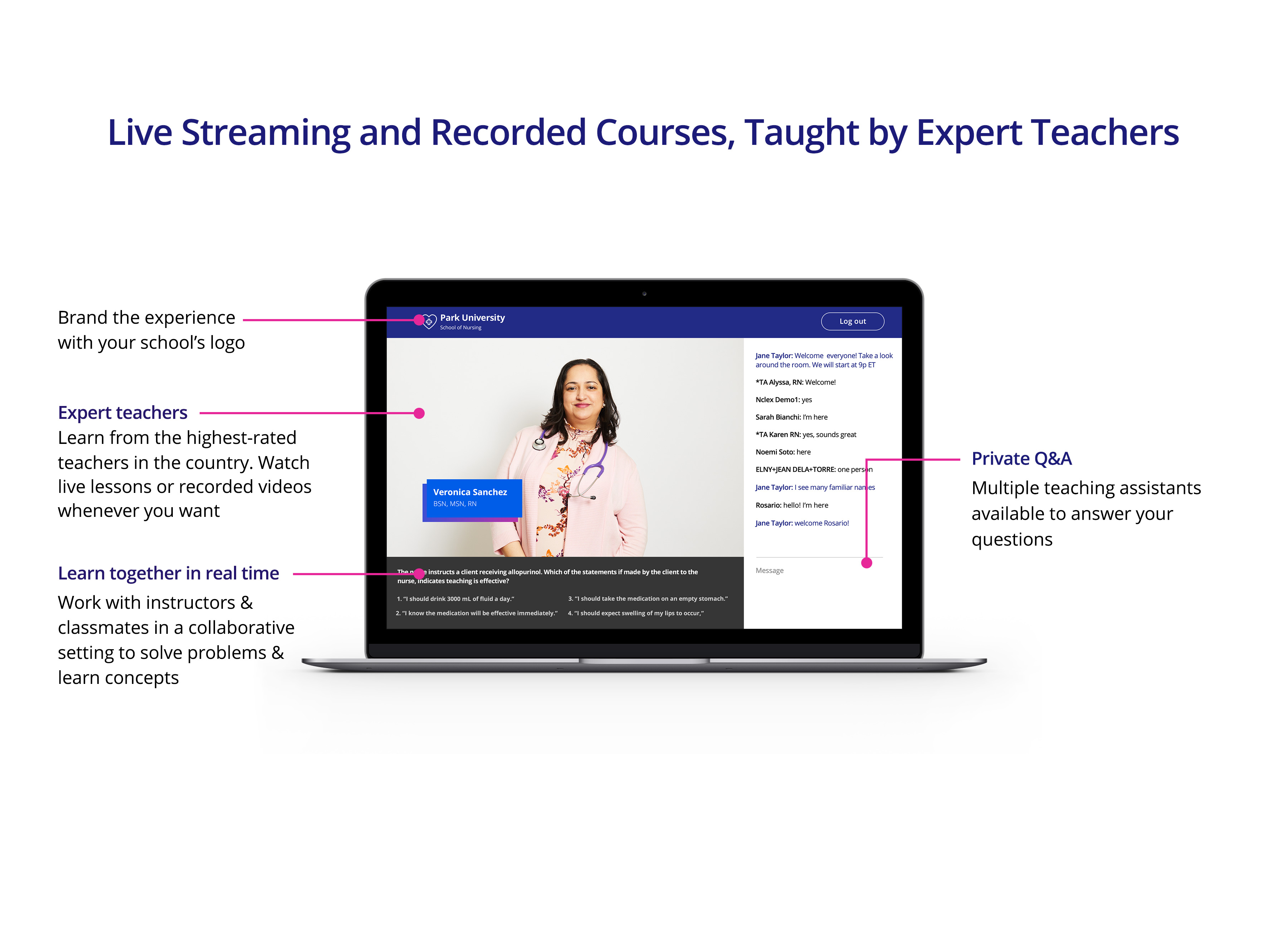 Kaplan Course Solutions has a range of course offerings for both Undergraduate and Graduate Nursing Programs, such as:
Undergraduate Level
Computer Applications in Healthcare
Critical Care
Fundamentals
Gerontology
Health Assessment
MedSurg - I
MedSurg - II
MedSurg III
Mental Health Issues
Pathophysiology
Pediatrics
Pharmacology
Research
Graduate Level
Advanced Clinical Decision Making
Advanced Physical Assessment
Diagnostics & Technology
Fundamentals of Acute Care 1
Fundamentals of Acute Care 2
Fundamentals of Acute Care 3
Informatics
Nursing Management Certification
Nursing Research
Nursing Theory
Simulations