Service
Kaplan prides itself on providing the strongest service in the industry, employing a team of experts who support administrators, faculty, and students through every step of the process.
Commitment to Service
No other Benchmark Testing provider in the industry shares the same ownership in your program as Kaplan. We treat you like a true partner. We vow to provide you with ongoing service and complete access to a Kaplan Faculty Nurse Consultant. We also provide live faculty training with semi-monthly webinars to engage faculty, consult on program administration, and deliver outcomes for your students. All faculty members receive a student account to become familiar with student resources and how they are used. Your nursing consultant can also offer end-of-year assistance with analyzing and interpreting your program's data to evaluate performance and remedy curriculum gaps.
By becoming a Kaplan partner, your program will get full access to your very own team of experts.
Sample Image: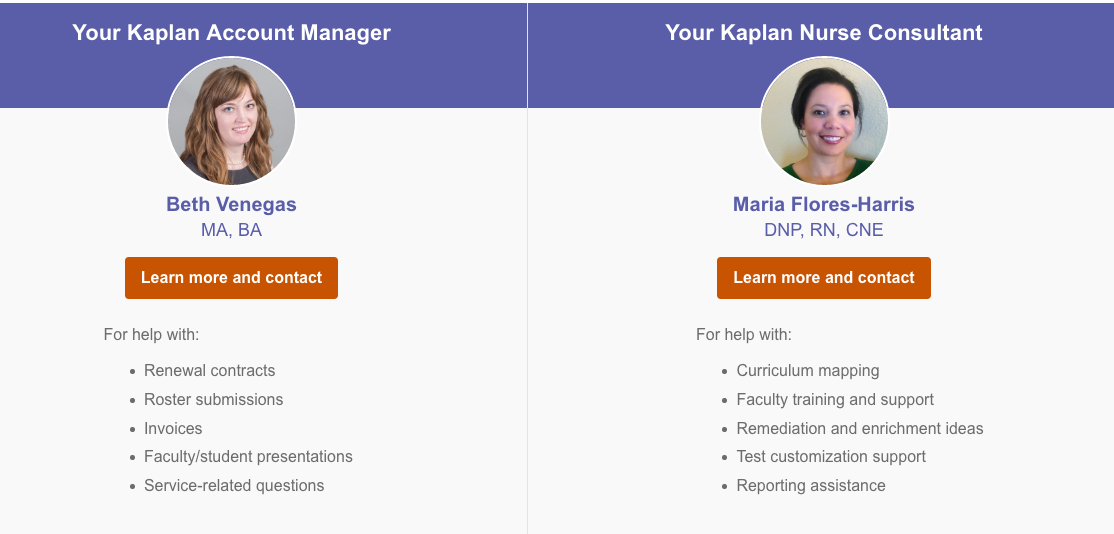 For Faculty & Administrators
Account Manager available weekdays by phone and email to support with:
Roster submissions and updates
Book orders and shipping confirmations
Orientations
Faculty training and academic support visits
Invoice assistance
Account Director supports with:
Agreement terms
Program expansion
Retention
Faculty Nurse Consultant provides ongoing academic support, including:
Curriculum mapping
Faculty education and support
Remediation and enrichment ideas
Test customization support
Reporting assistance
Student/class outcome consulting
Master's Educated NCLEX® Instructor* who teaches Kaplan's NCLEX® Review course
Student Services Managers are available by email or phone to help with technical and service-related matters relating to a student's program
Team of NCLEX® experts that students can email to have their academic questions answered
Kaplan Nursing: Education with a purpose
Connect with a Kaplan representative and experience the Kaplan difference