THE NCLEX-RN® IN CANADA:
Get the facts. Succeed. We'll show you how.
Canadian nursing students, or candidates, will be asked to write the NCLEX-RN® in order to become registered nurses.
We're here to help you pass!
Thanks for helping us help you. You're on the way to NCLEX success!
Share this resource with your nursing candidates and colleagues.
We've been helping candidates like you achieve their goals and become nurses for over 30 years. We know the NCLEX and can make your transition from the CRNE to this new and different test as smooth and easy as possible.
We'll help you become an NCLEX expert and turn your goals into reality by showing you how to pass the NCLEX— the first time.
What makes the Kaplan NCLEX review unique?
To pass the NCLEX, you need more than just content review. You need to master critical thinking techniques to ace the passing-level application and analysis style questions.
Kaplan helps you develop the critical reasoning skills you need to pass with:
The Decision Tree
Exclusive clinical reasoning helps you develop the critical thinking skills you'll need.
Engagine Instruction
21 hours of class time with one of our experienced, expert nurse educators.
Qbank
1,300+ NCLEX practice questions you can use to build your own practice tests.
Content Review eBook
500+ pages of comprehensive NCLEX review of frequently tested nursing content.
Online Study Center
At least three months of access to video.
NCLEX 101
The National Council Licensure Examination (NCLEX®) was created for one important purpose—to decide if it is safe for a nursing school graduate to begin practice as an entry-level nurse.
While other nursing school exams are knowledge-based, the NCLEX uses practical application and analysis to test candidates on their ability to use critical thinking skills when it comes to making nursing judgments.
This approach benefits both the candidates as they enter the field as well as their future patients by making sure the candidate is prepared to begin practicing nursing.
NCLEX Test Categories
The NCLEX-RN exam is organized into four main categories according to the framework, "Meeting Client Needs":
Safe and Effective Care Environment
Health Promotion and Maintenance
Psychosocial Integrity
Physiological Integrity
For everything else you need to know about the Client Needs categories, click here.
NCLEX Question Format
NCLEX questions are primarily multiple-choice with four answer choices. There are also alternate question types, including drag-and-drop, fill-in-the-blank, and "select all that apply" style questions.
NCLEX Test Day Expectations
Candidates have a maximum of 6 hours to complete the exam. Each candidate answers a minimum of 75 questions to a maximum of 265 questions.
The nursing exam ends when the computer can determine that a candidate's performance is either above or below the passing standard, regardless of the number of questions answered or the amount of time that has passed.
NCLEX Passing Standard
The NCLEX exam is pass/fail. To ensure that the passing standard accurately reflects the level of ability required, the National Council of State Boards of Nursing (NCSBN) evaluates the passing standard every three years.
What does the NCLEX's Computer Adaptive Test (CAT) format look like?
The NCLEX-RN® is known as a Computer Adaptive Test (CAT). The format simply serves to increase the efficiency of the exam process by interactively adapting future questions based on past responses.
Here's how it works...
Every time a candidate answers a question, the computer evaluates the student's ability based on his or her response and selects the next question (which could be harder or easier) targeted to the student's ability. This means that the computer will not allow a student to skip or return to previous questions.
The ultimate goal of the CAT platform is to get as much information as possible about the candidate's true ability level. That's a win-win for candidates and thousands of future patients.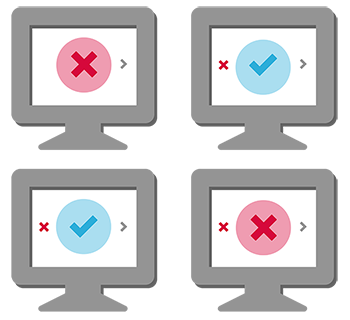 The NCLEX-RN® and Bloom's Taxonomy
Bloom's Taxonomy for the Cognitive Domain is the framework used to write and measure the difficulty of the questions candidates see on the NCLEX. Since the practice of nursing requires application of knowledge and skill, passing level questions are at the Application and Analysis levels.
The lower level questions are based on basic memorizing, remembering and comprehension of nursing content. The high, passing-level questions are based on both the application and analysis of nursing content.
If a candidate can answer enough of the high, passing-level questions, then he or she will pass the NCLEX. If a candidate can only answer the questions written at the lower levels, then she may not.
Remembering
Questions written at this level include basic "What is..." definition-style questions. Simple memorization is a key factor in being able to answer these questions on the NCLEX correctly.
Understanding
Questions written at this level include "Why" style questions. A more concrete foundation in anatomy and physiology is helpful in being able to answer these NCLEX questions.
Application
Questions written at this level include ones that require candidates to use the knowledge they already have and apply it to the specifics of each question. Being able to recognize the most applicable areas of basic nursing knowledge most relevant to the question will help candidates answer these NCLEX questions.
Analysis
Questions written at this level include ones that apply basic nursing knowledge to a new situation with which the candidate may not be familiar. Being able to determine what the question is really asking is helpful in answering these NCLEX questions correctly.
NCLEX FAQ
1. What are the fees for taking the NCLEX in Canada?
The NCLEX registration fee for candidates is $360 CDN.
2. If a Canadian student takes the NCLEX for licensure in Canada, will he or she be able to work in the U.S.?
The NCLEX is only one component of the nursing regulatory licensure process. Other licensure requirements depend on the area in which the candidate is looking to practice. Candidates should contact their regulatory body or board of nursing for further information on the requirements and how these can be met.
BRITISH COLUMBIA: College of Registered Nurses of British Columbia
ALBERTA: College and Association of Registered Nurses of Alberta
SASKATCHEWAN: Saskatchewan Registered Nurses' Association
MANITOBA: College of Registered Nurses of Manitoba
ONTARIO: College of Nurses of Ontario (CNO exam)
QUÉBEC: Ordre des infirmières et infirmiers du Québec
NEW BRUNSWICK: Nurses Association of New Brunswick
NOVA SCOTIA: College of Registered Nurses of Nova Scotia
Hover over your province to get the contact info for your Regulatory Board of Nursing.
Have questions? Call 1-800-527-8378.