Everything you need to know for your next destination.
The Road to Residency calendar includes every step on your path to becoming a U.S. physician.

A month-to-month guide for the two years leading to residency.

Checklists for must have applications and dead lines.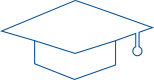 Crucial tips for the success of International Medical Graduates.
Ready to jump-start your journey?

Countdown to Match Week 2019