The tests are standardized. Your test prep shouldn't be.
You are more than a test score. You have unique interests, aptitudes, and goals. And a successful college application will reflect that through your grades, essays, extracurriculars, and your scores on high-stakes tests like the SAT and ACT.
That's where we come in.
What makes Kaplan SAT and ACT courses uniquely successful? It's simple. Our entire program is a partnership between our expert instructors and your family, geared around your individual needs and goals. We offer the most personalized way to prep.
You are more than a score; but why not be more than a great score? Read more to learn how you'll score higher—guaranteed or your money back.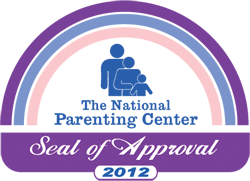 Kaplan Wins Award from the National Parent Center
Kaplan recently received National Parent Center's Seal of Approval for our SAT On Demand Course, powered by our exclusive Smart Track System, for its comprehensive study materials, accessibility, and the ability for parents to be involved in their child's progress. The National Parenting Center's Seal of Approval is a peer-to-peer review program that recognizes products and services that have been met with a "thumbs up" by both parent and student testers. Kaplan's On Demand course with Smart Track is integrated into ALL of our courses to provide the most personalized test prep possible.
A course that adapts to you...
Strengths and weaknesses... we all have them, but yours will be different from the person sitting next to you—and they'll change as you progress through the course.
At Kaplan, you'll start with a full diagnostic exam. Our Smart Track system analyzes your performance and prescribes a custom learning plan. You'll work through a comprehensive program of engaging video lessons, guided practice sessions, quizzes, and practice tests. Based on your results, Smart Track customizes your assignments, constantly adapting your prep to meet your needs.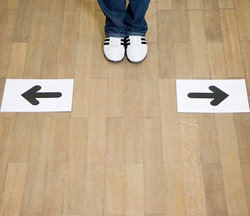 An integrated learning system that saves you time...
Prepping for two tests doesn't have to take twice the time. Many students now take both the SAT and the ACT. While these tests have differences, they also have a lot in common.
At Kaplan, you won't waste time preparing for concepts you've already mastered. Smart Track recognizes what you've already learned for one test, so you won't have to start at square one. We'll make sure you know a concept and then move on to other skills when prepping for the next test. It's the most efficient way to prep.
Progress tracking at your fingertips...
How am I doing? is the question our students and parents ask most often.
At Kaplan, we keep students and parents up to date through Smart Reports™. The student portal keeps you informed of your progress on each assignment as well as your performance on every tested topic. You can also view your practice test performance and analyze your strengths and weaknesses by topic area, question type, and more.
Smart Reports™ helps you stay focused on reaching your goals.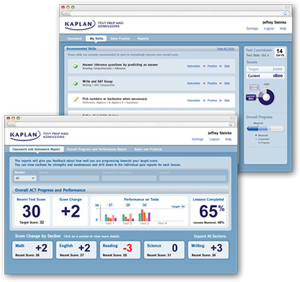 A classroom experience customized for you...
Personalization doesn't stop online. The Kaplan experience takes customized learning to a new level—by extending it to the classroom. In fact, no two Kaplan classes are exactly the same.
Before each class, Smart Track generates a custom lesson plan based on student performance. The teacher uses it to guide the instruction and practice that takes place in each class. Every session covers three topics and includes guided and independent practice. You'll also be grouped for collaborative practice by your level to help you reach your target score.
This type of prep keeps you engaged and motivated.
Guaranteed Results
Confidence is such an important part of your success on Test Day. At Kaplan, we believe that it all starts with your confidence in our programs. That's why we offer the most comprehensive guarantee in the industry:
Readiness: You'll feel ready to walk into Test Day, or you can repeat the course for free.
Satisfaction: You'll feel satisfied with your scores, or you can repeat the course for free, regardless of how many points you've improved.
Money Back: You'll score higher, or you'll get your money back.