Live streaming SAT prep from the best instructors in the country—a Kaplan exclusive.
---
Learning has evolved. So why is it so hard to get a modern prep experience where and when you want it? Enter The SAT Channel. Built on decades of research and backed by a team of learning engineers, it puts you at the center of the prep process.
When you enroll today, you can start watching tonight.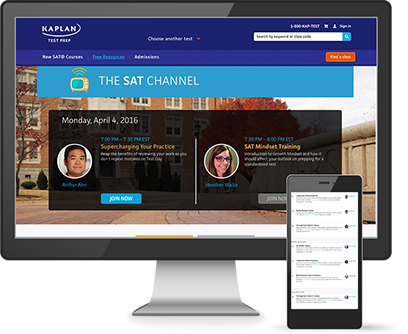 Flexible hours
and more of them
Students shouldn't "run out" of prep. That's why the combination of a Kaplan course and The SAT Channel offers more hours of live instruction than any major prep provider.
With live, scheduled programming and every episode available on demand, you never have to miss a beat.
One channel,
many episodes
Are you an expert at math, but need to focus on reading? Is your vocab top notch, but your algebra behind? Jump into episodes engineered for your learning level.
Learn from your mistakes in targeted review sessions. As you improve, up the challenge.
Browse by topic, instructor, or difficulty.
Here is a sample of the episodes you can choose:

Meet the Prep Squad
No matter your schedule, location, or learning level, you'll learn from a top-rated teacher—our best in the country.
Here are some of them: