Kaplan Academic Partnerships
Comprehensive Review Resources for the USMLE, COMLEX, NAPLEX, NDBE, and PANCE.
Kaplan's courses are mapped to corresponding exam content and include only the highest yield material to help students prepare and succeed on test day. Kaplan can meet all of your students' needs, from question practice to extensive content review and remediation. Kaplan can also meet all of your administrative needs including curriculum mapping of high yield programs, administrative reporting of usage and performance and faculty training opportunities. The personalized service from our Kaplan Medical program director and institutional service team will make sure you have all the tools necessary for success on test day.
We look forward to partnering with you to ensure your students' success on test day.
Assessment and Reporting
Kaplan Medical's Administrative Reporting Suite includes updated features and functionality to help faculty and administrators quickly access and understand individual student and cohort performance. We're continuously updating this dashboard based on our customer feedback to make it faster and easier to use.
Our Reporting Suite includes:
Cross-product reporting—view performance across various products to see trends and levels of content consumption
Customizable reporting with class mean available for each report. Select parameters to view data on an individual student or a cohort of students
Customizable low-performance thresholds—quickly identify at-risk students by defining your own performance thresholds to access all users below that threshold
Flags for students who score below the class mean—quickly identify students scoring below their peers
Administrative reporting is available for the following QBank programs:
USMLE Step 1
USMLE Step 2 CK
COMLEX-USA Level 1
NAPLEX
NBDE Part 1
PANCE
Secure Simulated Exams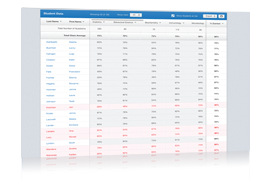 Administrative Reporting Suite
Secure Simulated Exams
Our distinguished medical faculty and subject matter experts develop questions for our simulated exams. Kaplan offers our partners' tests on specific dates and times determined by your school.
All of Kaplan's secure exams provide individual student reports and secure aggregate reports for faculty and administrators. For schools interested in sharing student score data to maintain the reliability of our simulated exams, we offer free, secure practice tests.
Secure simulated exams include:
USMLE Step 1 Diagnostic
USMLE Step 1 Full Length Exam
COMLEX-USA Level 1 Full Length Exam
NAPLEX Diagnostic Exam
NBDE Part 1 & 2 Full Length Exam
Small Group Problem-Based Learning
Kaplan Medical's Small Group Problem Based Learning program (PBL) helps students learn about a subject through the experience of problem solving. PBL develops students' flexible knowledge, effective problem solving skills, self-directed learning, effective collaboration skills and intrinsic motivation. The aim is to help students sharpen their application of basic science knowledge in the setting of USMLE style questions.
To allow for flexibility with any curriculum, Kaplan's Small Group Problem Based Learning is conducted virtually. Schools are able to select from 6, 9, or 12 small group sessions, based on the best fit for their timeline.
Students are divided into cohorts of (up to) 10 students, to maximize interaction and active learning. Each cohort meets virtually with a Kaplan facilitator to work through their tasks at hand...to develop clinical problem solving skills while arriving at a plausible diagnosis for a given patient.
Schools will be able to select from the following topics for their sessions:
Stroke
Anemia
Hypertension
Pneumonia
Obstructive & Restrictive Lung Diseases
Upper GI Tract Disorders
Diabetes Mellitus
Acid-Base Disorders
Coronary Vascular Disease
Glomerular Diseases
Arrhythmias
Meningitis
Leukemia and Lymphoma
Arthritis
Autoimmune Disorders
Coagulation Disorders
Vasculitides
Sexually Transmitted Diseases
Cardiomyopathy
Adrenal Gland Disorders
Try Our Materials for Free
Send an email to medservice@kaplan.com with your name and institution name. One of our Kaplan Medical Institutional Team members will be happy to assist you. Scholarship opportunities are also available to at-risk students and those requiring financial assistance.
We're here to help.
Contact one of our Regional Medical Programs Directors to learn more about our institutional programs and support.
At Kaplan Medical, we pride ourselves on delivering exceptional service to our partner schools and students. A member of our Med Institutional Service Team is always nearby to provide direct support to our partners by:
Working closely with your administration to ensure a successful implementation
Facilitating reporting information for your student population
Coordinating and delivering student orientation sessions
Rapid response to any potential problems that may arise
Facilitating book orders, class requests and all other elements of program delivery
Ensuring timely and accurate invoicing
Kaplan Medical Faculty Workshops
Kaplan Medical is proud to offer you and your faculty recurring live and online workshops- for FREE.
Our workshops are held in our live, online Classroom Anywhere™ virtual classroom environment, where faculty attendees are able to interact remotely by asking questions to other attendees as well as the seminar speaker.
Item Writing Workshop
This one-hour, interactive session will cover cognitive principles for well-structured, unambiguous assessment items and exam questions. The session will start by examining clearly written, but structurally flawed questions to demonstrate the common pitfalls that lead to poor item development. Underlying cognitive principles will be applied to show how poorly developed questions can be improved. The same principles will be used to show how new items can be created, lending themselves to the creation of multiple versions, and expanding the number of items produced with minimal extra effort. Item analysis data will be reviewed to clarify what it provides and how this information can be applied to improving questions from year to year. Participants will have the opportunity to submit or critique questions submitted by other faculty. The process will be a role model for how an institution's group of faculty can create inter-disciplinary, clinically-oriented items in the same amount of time (per faculty) as it would take to write simpler questions individually.
Team Based Learning
Research has shown that small group problem based learning is more effective than large group lecture style learning for teaching and retaining complex information and problem solving skills. Yet, the efficiency of large group lectures as a method of transferring large quantities of information can't be denied. Nor can the cost-effectiveness of a faculty-to-student ratio of 1:200 be ignored as compared to a ratio of 1:20 or 1:10. A variety of techniques have been developed to meld the best of small group interaction with the efficiency or large group meetings.
This one-hour interactive session will provide a live experience of some of these techniques. The relationship between team-based learning and flipped classroom will be explored, and participants will work through a series of cases in a team-based format to get hands-on experience. The session will close with a discussion about motivational techniques including how assessment can be team-based
Entrustable Professional Activities (EPAs)
As health professional students shift from classroom learning to clinical rotations, supervisors recognize that just because a student has passed all their tests, it does not mean they are ready to be entrusted with the full responsibilities of patient care. Clinical institutions are leery of this step as well. The informal approach of "See one, do one, teach one" is no longer sufficient to satisfy the need to deliver consistently high-quality care. In addition to the knowledge and skills, we want our trainees to demonstrate the attitudes, behaviors, and professional qualities that justify us placing our trust in them. Instead of an all-or-nothing kind of trust, it would be better if the total scope of care could be broken down into specific activities (EPAs). Ideally there would also be different gradations of supervision so trust can be built gradually as supervision is withdrawn in stages. Finally, there is the challenge of accurately assessing and documenting a trainee's readiness to assume these responsibilities.
This one-hour interactive session will give a brief history of EPA, and the political, legal, and societal pressures that make it likely that EPAs will continue to grow as an important aspect of clinical education and training. Participants will then work through several cases to gain familiarity with defining EPAs, defining levels of supervision, evaluating EPAs, and defining assessment tools that balance ease of use, completeness, validity, and reliability. Example EPAs from ACGME and AAMC will be used as a starting point, and participants will explore how to create and define EPAs that address an institution's unique needs.