Free NCLEX® Practice Questions and Review
Kaplan Nursing will help you succeed and pass the NCLEX-RN®! Start your preparation today with our free NCLEX® sample questions, NCLEX® practice tests, and strategy review class.
Free NCLEX-RN® Practice Questions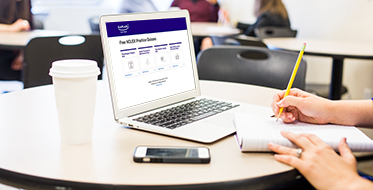 Want free NCLEX® review on the go? Test yourself by taking Kaplan's free quiz, complete with exam-like questions and explanations. Each quiz includes 5 free sample NCLEX® questions of a client need category.
Free Events
Join us for a free strategy session or sample class–online
or in your area.

Decision Tree
We teach you exclusive, clinical reasoning skills that help you answer passing-level questions correctly and master the test.

Comprehensive Review
We focus on content-in-context and passing level questions to give you everything you need to pass—the first time.

Realistic Practice
Our Qbank and Question Trainers emphasize alternate-item question types and give you realistic practice in an NCLEX®-style interface.

Pass Guarantee
Our pass guarantee is designed to help you pass the NCLEX® exam and begin your life as a nurse as quickly as possible.
Connect with Kaplan Nursing!