MBE Combination Course
Enter a zip code where you plan on taking your course:
Exclusive Tools and Resources
Lectures-on-Demand
Miss a lecture? Want to review a concept? Classes are archived online. You can listen to an entire lecture or just parts of one at your convenience.

MBE Qbank
Our online MBE Qbank contains 1,800 sample test questions with detailed answer explanations, in addition to those provided in the course material. You can use it to create customized practice quizzes and track your progress.

Supplemental Audio Lectures
We offer an additional 32 hours of substantive lectures on all six MBE topics on MP3s so that you can listen to them anytime, anywhere.

Ask-an-Attorney Support
Have a question about the outlines or practice materials presented in our courses? Send us an e-mail. Our attorneys will help you get back on track.
Your MBE Combination Course comes with the following outlines, workbooks and hands-on tools:
Multistate Workbook (practice questions)
Multistate Simulated Exam
Multistate Simulated Exam Explanatory Answers
Qbank
Lectures-On-Demand
Additional Audio Lectures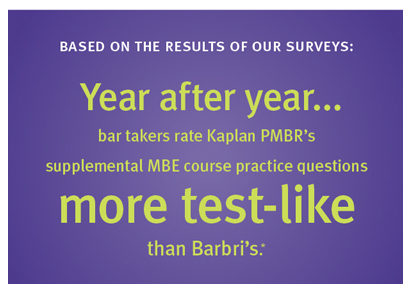 *Survey Results: In Kaplan Bar Review's surveys of its July bar exam students in 2007, 2008, 2009, 2010, and 2011 students who took Kaplan Bar Review MBE Foundation and/or Final Review course reported that they found Kaplan Bar Review's MBE practice questions to be more like the actual MBE than BARBRI's.