Positioning Your Students for 2020 AP Exam Success
April 20, 2020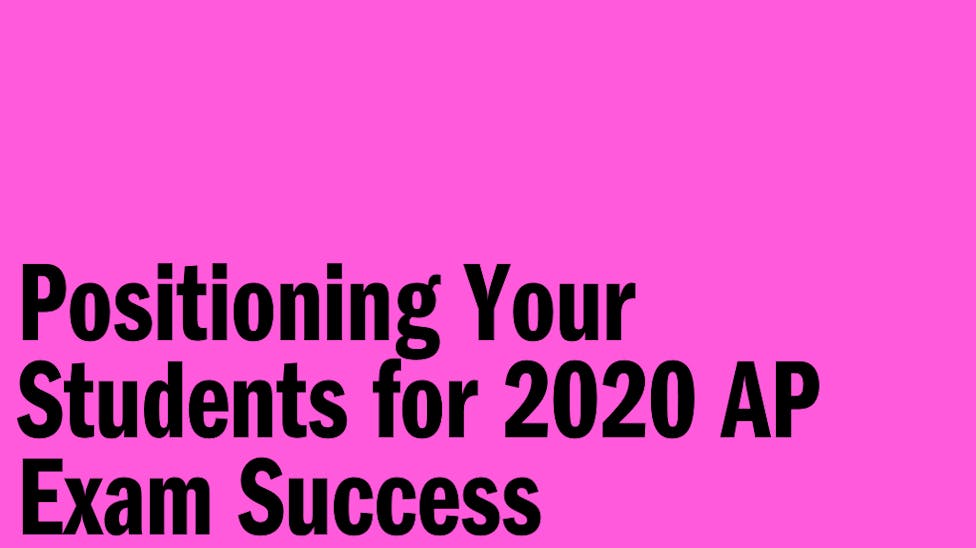 Now that the College Board has provided specific updates on the 2020 AP exam format, we want to reinforce your hard work to help students earn the credit(s) they've been working towards.
Despite the anxiousness and fear of the unknown created by the pandemic, the fact that AP exams are moving forward can be a point of normalcy for students and families. However, the exam format has dramatically changed and requires a new way of approaching the test/test-taking strategies.
Instead of the rigorous two- to three-hour exam, this year students will take a 45-minute test at home. Students can use any device to write and submit their answers or can take photos of handwritten work. Perhaps most strikingly, in order to prevent cheating, the exams will be free-response only (no multiple-choice questions) and will be open book / open note. (See the list at the bottom of this page for a recap of the latest information.)
This is a dramatic shift and many students are concerned about their performance given the lack of multiple-choice questions. Some students may prefer the straightforward format of multiple-choice questions, including the option to eliminate answer choices and strategically guess. Other students may feel confident with answering free-response questions but would feel better if they still had a multiple-choice section to bolster their overall performance. These are all valid concerns, but we encourage students to do what they can to tackle these challenges and remain vigilant in their exam preparation efforts. After all, the content is the same information they've been learning all year, and the free-response questions are essentially the same formats they've been preparing and practicing for all year. Students can position themselves for success by reviewing their materials much as they would leading up to the test, and just focusing their test-like practice on the FRQ types that the College Board has announced.
The College Board will be emailing students directly with testing information, so they need to ensure their MyAP account has a correct personal email address listed. We recommend that students check their junk mail just in case there are any delivery issues and share a copy of their personal email address with their AP teachers. Additionally, we recommend that students pay careful attention to the exam schedule time zones and make plans accordingly.
Recap of College Board's 2020 AP Exam Updates:
Exams will be administered at home
There will only be free-response questions (no multiple-choice questions)
Each exam will be 45 minutes long (time for the student to read the exam question and write their essay response)
Students will have a strict five-minute window to submit their response
Students can take exams online on any device or submit handwritten photographs of their written responses
All AP exams will be completely open book and open note
The primary exam dates will be May 11-22 (two different dates per subject are being offered)
The make-up exam dates will be June 1-5
Students can take up to three exams per day
Scoring will continue to be on a 1 to 5 scale
In late April, College Board will be providing more information on how to access the test day system
While any remote learning and digital testing can exacerbate existing inequity around technology access, there are resources available for AP students. The College Board is allowing students to submit handwritten responses via a smartphone, and there is also a form students can fill out by April 24 in order to request technology or connectivity assistance.
We know teachers, advisors, and administrators are tirelessly working to help students meet their goals. We at Kaplan are here to support you and your students' preparation efforts for the upcoming AP Exams.