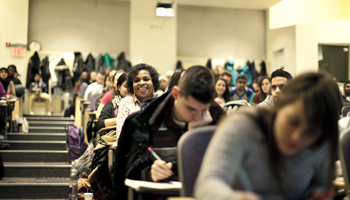 USMLE® Step 2 CK Prep - Live
---
Do you learn best with a hands-on, interactive style of prep? Then Live is for you. Receive in-person instruction from expert faculty and interact with your peers in a Kaplan Center. This fully-immersive style of learning will make sure you're fully prepared to tackle the Step 2 Clinical Knowledge portion of the USMLE.
Enjoy These Unique Benefits:
DYNAMIC LIVE INSTRUCTION
LIVE INSTRUCTION. Receive up-to-the-minute instruction from the leaders in test prep.
6-WEEK SCHEDULE. Access 219 hours of lectures with our most time-efficient schedule.
MASTER FACULTY. There are no better instructors teaching these disciplines. Period.
LECTURE NOTES. Get 5 updated volumes in print and ebook, packed with easy-to-understand color images and tables.
TEST YOUR KNOWLEDGE WITH EXAM-LIKE QUESTIONS


PRACTICE ANYTIME. Access until 4 months after your live start date.
DIAGNOSTIC TEST. Quickly understand your strengths and opportunities with 150 exam-like questions.
ASSESSMENTS. Know where you stand with over 800 exam-like questions.
QBANK. Get 7 month access to eliminate test-day anxiety with over 2000 exam-like questions and complete explanations.
2 SIMULATED EXAMS. Know when you're ready with our full-length exams and complete explanations.
OTHER GREAT FEATURES


MED ADVISING. Get one-on-one guidance, including a personalized study plan and residency timeline.
STUDY CENTER. Enjoy comfortable, convenient locations with fast internet, quiet labs, and support from staff and peers.
I20 ELIGIBLE FACILITY. You are welcome to study in New York, Chicago, Miami, Los Angeles, Houston, or Washington DC.
GUIDED STUDY. Take part in facilitated, team-based sessions, focused on clinical cases.
Are you an international student who wants to study on an F-1 student visa? Click here to learn more before you enroll.
Step 2 CK Plus Programs
Are you torn between self-study at a full-service study center in the USA and receiving up-to-the-minute live instruction? You don't have to choose! Our Plus Programs let you combine In Center with Live or Live Online programs and save up to 30% or more.
| | | |
| --- | --- | --- |
| In Center - 4 Month ($3,999) | $7,798 $5,459 | $7,498 $4,874 |
| In Center - 7 Month ($5,999) | $9,798 $6,859 | $9,498 $6,174 |
Would you like to study at your own pace from your own place and get structure and interaction from a live class? Now you can do both! Our Plus Programs let you combine In Center with Live or Live Online programs and save up to 20%.
| | | |
| --- | --- | --- |
| On Demand - 4 Month ($1,999) | $5,798 $4,638 | $3,499 |
| On Demand - 7 Month ($2,999) | $6,798 $5,438 | |
Call 1-800-KAP-TEST to enroll.
Enroll today! Call 1-800-KAP-TEST to speak with an advisor now.
If outside the U.S. or Canada, please call 1-212-997-5883.