AP® Exam Prep
We know your study time for the AP exam is tight, so we created a brand-new approach to AP prep that fits your schedule and how you learn.
AP Rapid Review Live
Need fast, last-minute review? Sign up for AP Rapid Review Live:
Prep in 2 hours and build your confidence in one session
Multiple sessions available to fit easily into your study schedule
Sessions focus on the "big ideas" of an exam
Review for AP US History, World History, Calculus AB, Chemistry, Biology, or Physics 1
Learn More
AP Review Online
Prep for US History, World History, Biology, and Calculus AB from wherever you are—all are included with our AP Review Online. With Review Online, you get:
Live AP review taught in classes you choose
Your questions answered in real-time
AP questions you solve step-by-step with your Kaplan teacher
Recorded lessons you can access anytime, anywhere
Learn More
AP Tutoring
WIth our AP tutoring, a dedicated Kaplan teacher helps you get the score you want with:
One-on-one private instruction that is tailored to you and your specific needs
Personalized study plans focused on the topics you need help with
An AP Prep book for the test you are taking, and online tools and materials
Tutoring is available in blocks of 6 or 12 hours.
Call 1-800-KapTest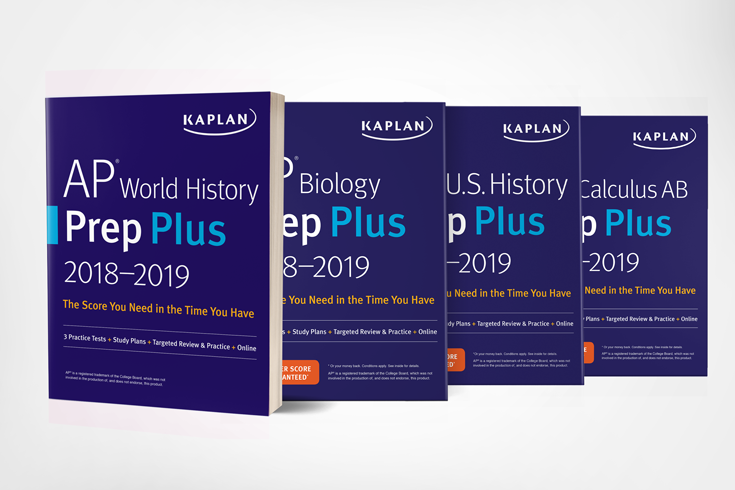 AP Prep Books
Kaplan Test Prep
---
Our AP prep books help you get the score you want in the time you have to study. We worked with teachers and students to make sure each book has what you need, including:
Lots of high-quality practice with realistic AP test questions
Content reviews that don't eat up your time
Full-length practice tests
Customizable, effective study plans that fit your schedule
Buy on Amazon

FITS YOU
Choose AP prep that fits how you learn: prep books, live review, recorded lessons, or working one-on-one with a tutor.

FITS YOUR TIME
All our AP prep is designed to fit your schedule, whether you have 2 weeks or 12 weeks to study.

SMART PRACTICE
Get plenty of practice on realistic test questions, and always get full explanations about correct answers.

SMART SUPPORT
Real teaching, real answers, and real interaction in real time. Can't be there? All sessions are recorded—watch anytime.