5 Ways to Boost Clinical Judgment Skills in Nursing Education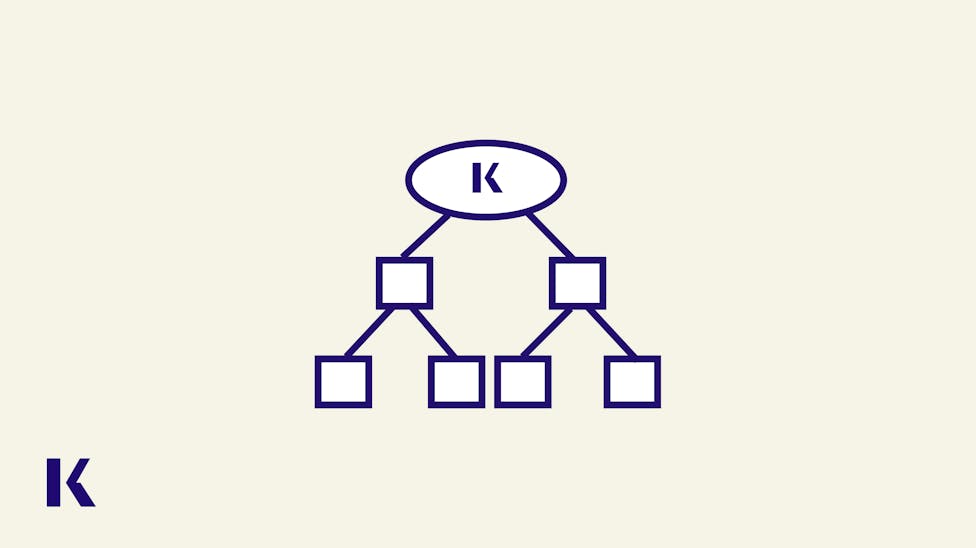 Critical thinking, clinical reasoning, and clinical judgment are essential for success on the Next Generation NCLEX (NGN) as well as for a career in nursing. The best way for a nurse to develop clinical judgment skills is through consistent practice. Feedback from peers and instructors during clinical judgment exercises will also help these skills improve. In this article, we explain what clinical judgment in nursing is, why clinical judgment skills are important, and five ways nursing educators can help their students develop clinical judgment skills.
What is Clinical Judgment in Nursing?
Critical thinking and clinical reasoning are the building blocks of clinical judgment. Critical thinking is the "planning" component involving the collection, analysis, evaluation, and synthesis of knowledge and patient cues to form hypotheses for remediation. Clinical reasoning is the "application" component that calls for the use of critical thinking, medical knowledge, and intuition in the clinical setting. Finally, clinical judgment is "defined as the observed outcome of critical thinking and decision-making. It is an iterative process that uses nursing knowledge to observe and assess presenting situations, identify a prioritized client concern, and generate the best possible evidence-based solutions in order to deliver safe client care" (NCSBN, 2018).
The Importance of Clinical Judgment in Nursing
Clinical settings are high-stakes, fast-paced environments: lives are at stake and colleagues are depending upon you for the collection of accurate information, reasoned and knowledgeable action plans, and effective formulation and evaluation of solutions. The healthcare environment requires quick thinking and demands a vast level of knowledge, as well as a high degree of self-sufficiency, critical self-awareness, and personal responsibility. Good clinical judgment is essential in providing safe and effective care.
National Council of State Boards of Nursing's Clinical Judgment Measurement Model
The NCSBN Clinical Judgment Measurement Model (CJMM) has multiple layers which are enacted iteratively in nursing practice. At Layer 0, the broad focus is on determining clinical decisions based on the client's needs. Layer 1 depicts the entire clinical judgment process, which results in the client having a satisfactory or unsatisfactory response (Layer 2). If unsatisfactory, the nurse will move through Layers 3 & 4 again to change the outcome. Layers 3 & 4 define the cognitive process of how a nurse makes a decision. The six steps in Layer 3 are the repetitive process necessary as the nurse is making a clinical decision. Early in their career (or as a student), the nurse can point to each of these steps specifically; however, as experience is gained, the nurse moves through the steps without having to think about what comes next. The individual factors found in Layer 4 contribute to the realistic nature of the scenario. The nurse may experience interruptions, task complexity, time pressures, etc. in providing the care (NCSBN, 2019).  
Underlying this CJMM is the nursing process. According to the NCSBN, the actual features of the nursing process can be different from school to school just as long as the framework helps to contextualize the learning through good instruction and faculty guidance.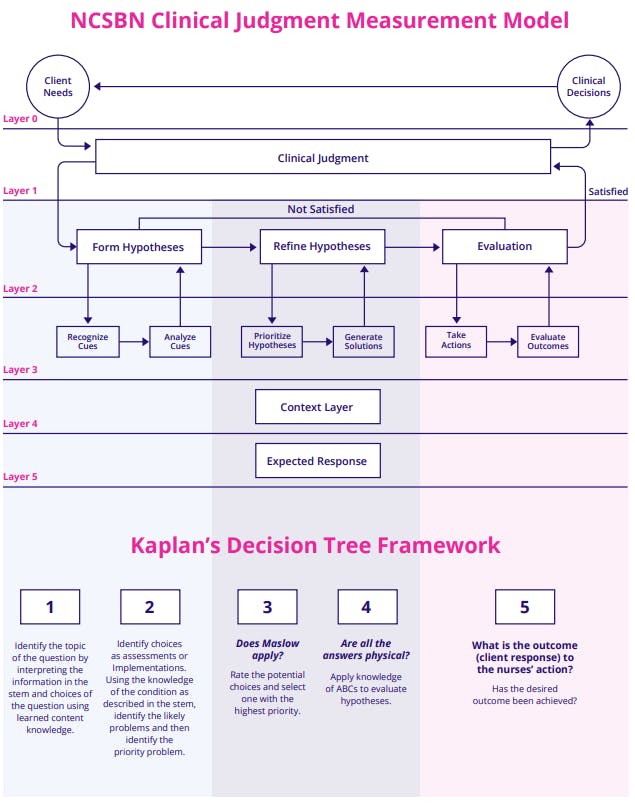 In addition to the NCSBN Measurement Model, the Kaplan Decision Tree can be incorporated to increase clinical judgment skills. By utilizing the Decision Tree, students gain essential critical thinking and clinical judgment skills through the process of deduction and prioritization―which they will need to be successful on the NCLEX as well as in practice as a nurse.
Five Ways to Increase Clinical Judgment Skills
Clinical Judgment Exercise #1: The Flipped Classroom
The "flipped classroom" focuses on an individualized learning experience, compelling hands-on learning by using class time for examining material and evaluating students' understanding of familiar material rather than exploring new material.
NCSBN CJMM Level 
The flipped classroom helps students through the practice of evaluating understanding and conclusions. Additionally, students learn about refining hypotheses by incorporating new information gathered from discussion with other students as well as revising conclusions when appropriate. This method of instruction is not always met with praise from students, but it certainly has benefits that shift the classroom from a teacher-centered to a student-centered approach. Thus allowing students to explore topics in greater depth and immersing them in clinical thinking.
The Flipped Classroom in Practice:
Assign new material first as homework
Use class time to discuss and compare understanding and conclusions
Small group discussions or individual thought work
Self/co-learning facilitated by instructor
Incorporate flipped classroom assignments using virtual simulation
Clinical Judgment Exercise #2: Think-Pair-Share
The "Think-Pair-Share" method of learning combines individual and collaborative learning by layering elements of self-sufficient study and conclusion-formulation with collaborative examination of information and evaluation of differing perspectives. 
NCSBN CJMM Level
The Think-Pair-Share method has students analyze and synthesize information to formulate hypotheses and then communicate that understanding and those conclusions to other students for a collaborative learning and assessment experience. 
Think-Pair-Share in Practice:
Students work individually to understand or solve an assignment
Students come together in small groups to discuss their understanding and solutions
Students learn from each other and evaluate their own and their classmates' understanding and solutions.
Clinical Judgment Exercise #3: Compare and Share
The "Compare and Share" model is designed to teach students to see, understand, and explain the intricacies of the differences and similarities between various patients' histories and patient concerns.
NCSBN CJMM Level 
The Compare and Share method obliges students to utilize the available cues and their knowledge to formulate hypotheses based on the comparisons and contrasts they can find between each patient. 
Compare and Share in Practice:
Students are provided with multiple similar patients
Patients differ only in terms of more intricate aspects of history or concern
Students must compare and contrast these more intricate differences
Students share by explaining these differences to classmates/instructors.
Clinical Judgment Exercise #4: Unfolding or Progressive Case Studies
The "Unfolding or Progressive Case Studies" approach requires students to practice continual and timely adaptation to evolving patient circumstances. 
NCSBN CJMM Level
These Unfolding or Progressive Case studies push students to continually incorporate new information and reevaluate their understanding, analysis, and hypotheses to improve patient outcomes. 
Unfolding or Progressive Case Studies in Practice:
Students are provided with an initial patient history and context and patient concern
As students return to work with the patient, elements of the patient context/concerns change unpredictably
The student must continually collect cues, evaluate their previous actions and solutions, and adapt to new circumstances.
Clinical Judgment Exercise #5: i-Human Patients by Kaplan Virtual Simulation
The use of i-Human Patients virtual simulation exposes students to patients, patient histories, and patient concerns in a low-stakes, continually monitored, structured, and directed clinical atmosphere.
NCSBN CJMM Level
i-Human Patients' virtual simulation targets require students to formulate hypotheses based on the information they have received from multiple sources (ie. EHR). Students must then prioritize and communicate their understanding and findings (in notes or conversation) and anticipate client needs and resources for enacting solutions. Students must also evaluate outcomes and refine their understanding, intuitions, and hypotheses as they incorporate new information and evaluate outcomes so they can revise their remediation strategies as needed. The report and feedback from the virtual simulation allows for measurement of the student's activities which include recognition and analysis of cues, hypothesis generation, taking action, and evaluation of outcomes. 
i-Human Patients Virtual Simulation in Practice:
Can be used synchronously or asynchronously
Can be used individually or in groups
Students are assigned virtual patients and simulated patient histories designed by instructor
Instructor can integrate any of the above-mentioned teaching methods in a clinical simulation
Students complete patient histories, evaluations, and hypothetical solutions in the simulation
Students take extensive notes and provide clear justifications for actions
Students receive automatic guidance and feedback from the program during and after the simulation
Students can seek and receive guidance and feedback from the instructor or peers during the simulation.
[Read Next: Virtual Simulation: Free Resources for Nursing Educators]
Boosting Clinical Judgment Skills in Nurses for Better Patient Outcomes
The next generation of nursing education must equip itself with the tools necessary to meet the new challenges of the post-COVID and information age. These challenges include training for a more virtualized world. Through the classroom-based activities outlined in this article, educators can help their students build the knowledge, skills, and confidence they will need to be successful by practicing and honing clinical judgment skills. Some of these methods reflect traditional learning approaches; however, all can―and should―incorporate some of the virtual learning components and require the level of digital proficiency that characterizes next generation nursing.
NCLEX® is a registered trademark of the National Council of State Boards of Nursing, Inc. Test names are the property of the respective trademark holders, none of whom endorse or are affiliated with Kaplan.
Shannon has over 28 years of nursing experience, with more than half of those years being specific to nursing education. She received her BSN from Nazareth College, MSN in Nursing Education from Walden University and her DNP in Academic Leadership from Jacksonville University. She has served in both faculty and director positions over the years and continues to teach online courses for a BSN program. She maintains active membership in the American Nurses Association, International Nurses Association, Phi Kappa PHi Graduate Honor Society and Sigma Theta Tau Nursing Honor Society. Her special interests include nursing student success from program admission to NCLEX, reducing testing anxiety, and mentoring new nurse educators.
See more posts by Shannon Meijer DNP, RN, Nurse Educator Consultant