Need help? Call 1-800-KAP-TEST
Choose your ACT® Prep
More live instruction than anyone else
Check out our other prep options
Take and retake any of our PSAT, SAT, and ACT prep courses until December of your senior year.
Study at your own pace in a location that's convenient for you.

Supercharge your practice with Prep Course PLUS
---
Need a little more one-on-one practice, or some extra help with math? Taking the SAT as well? Upgrade to Prep Course PLUS.
Learn More

SAT Prep and Practice
---
All major colleges take both SAT and ACT scores. Thinking about taking the SAT? With Plus we give you SAT study resources.

3 Hours of Private Coaching
---
One of our expert coaches will meet with you live online to create a prep plan and strategy personalized to your learning style.
All for just $400 more

Math Foundations
---
200+ Practice Questions and Answers. 27 on-demand lessons with our best teachers. An online course book to help you focus on your weak points.
Official partner of live instruction for
Kaplan's ACT Channel
---
Kaplan's exclusive ACT Channel provides interactive live online sessions taught by our team of teachers. Students tune in for the sessions they need most and get instant help with any questions they have.
Learn More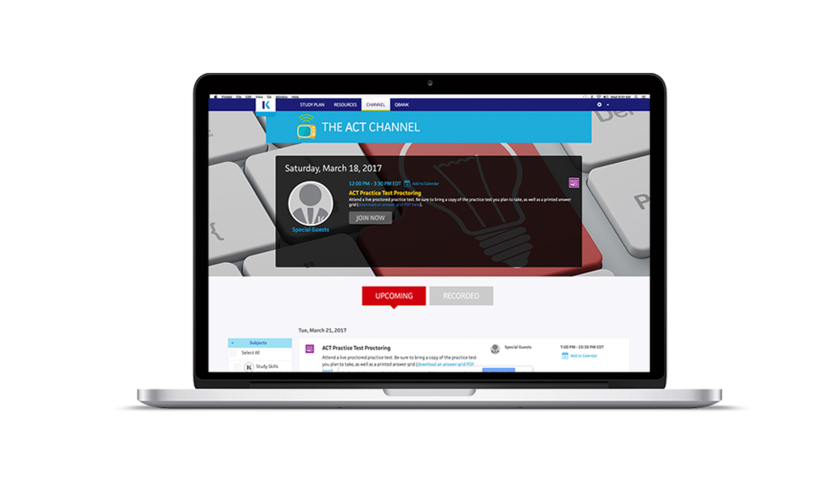 About the ACT
The ACT is a college entrance exam used by most colleges and universities to assess your readiness for college-level work. Your ACT score is a major factor in college admissions, so it's important to prep to achieve your best score. The ACT tests your skills in math, science, reading, and writing, and includes an optional essay.

Considering the SAT instead? Let us help you prep for the SAT.
Find SAT Prep

Still gearing up for the PSAT? See how Kaplan can help.
Find PSAT Prep
1
The ACT is offered seven times per year at locations across the country. Many students take the ACT for the first time in junior year and take the test more than once.
2
You'll find four Tests on the ACT (plus an optional Writing Test): English, Math, Reading, and Science. Kaplan offers ways to customize your ACT prep around the sections where you need to focus most.
3
The most important ACT score is your Composite Score, along with your Math Score, Science Score, English Score, and Reading Score. Your Composite Score ranges 1–36, which is an average of your 4 test scores. You will also receive a STEM Score, ELA Score, Reporting Categories and Subcategories, Readiness Benchmarks, State and US Rank, and a Writing Test score if you take the essay.
4
The ACT lasts 2 hours and 55 minutes without the essay or 3 hours and 35 minutes with the essay. In addition to the actual test timing, your Test Day experience will include time for check-in, verbal instructions, and short breaks. Our ACT prep options help you practice your timing and pacing for the actual test and provide tips for conquering Test Day as a whole.
5
Both the SAT and ACT are accepted at all major colleges across the country, so you can select which test to take or take both exams. Some students do better on one test or another, so you should take practice tests for both exams and consider which one will do a better job of highlighting your strengths.
6
You'll usually receive your scores back within 2 weeks of your test date, but sometimes it can take up to 8 weeks. If you take the Writing Test, your Writing Test scores will be available about two weeks after your multiple choice scores. Score reports are delivered to colleges based on the college and when the score report was ordered.
7
We recommend prepping for 2–3 months or more for the ACT, depending on individual factors like how many times a week you can study and how much of an increase you are looking to achieve.

CUSTOMIZED
Study Plans based on your strengths and weaknesses.

EXPERIENCE
A team of teachers ready to answer your questions when you need help.

RESULTS
9 out of 10 Kaplan students get into one or more of their top choice colleges.*

ASSURANCE
Score higher or your money back guaranteed.†

Don't take low for an answer
Higher Score Guaranteed†
or your money back
Breathe easy knowing that we believe in you. We are so confident in your success that if your score doesn't improve, we'll either give you your money back, or let you retake the class for free. For full eligibility requirements, visit kaptest.com/hsg.