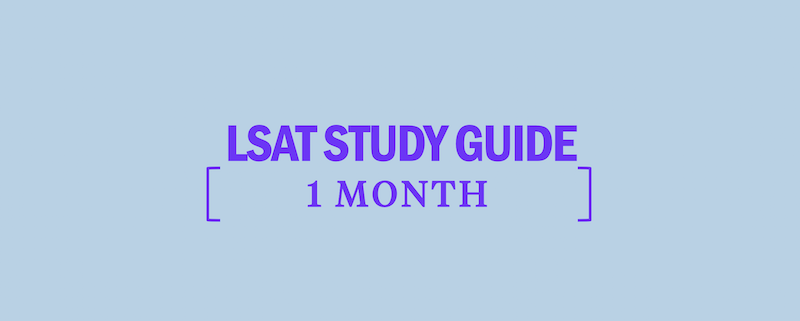 In order to study for the LSAT in a month and see a significant score improvement, you will need to use your time very efficiently. Maybe you registered for the test one month ago and got caught up in work, school, family, or other fun. Or maybe you just made the decision to apply to law school and are signing up for the test now. Regardless, if you're going to take the LSAT in a few short weeks, you've got some work to do. As someone who has coached several thousand LSAT test takers, and who is a pretty good procrastinator in my own right, here are my "must do" tips for you to make the most of your time between now and test day.
Six Last-Minute Preparation Tips
Raw, Scaled and Percentile Scoring
You will receive not one, not two, but three scores on Test Day:
A raw score (0-~101), the total number of scored questions answered correctly translated into…
A scaled score (120-180), the score by which law schools will evaluate your candidacy; and
A percentile score, comparing test-takers across various testing cohorts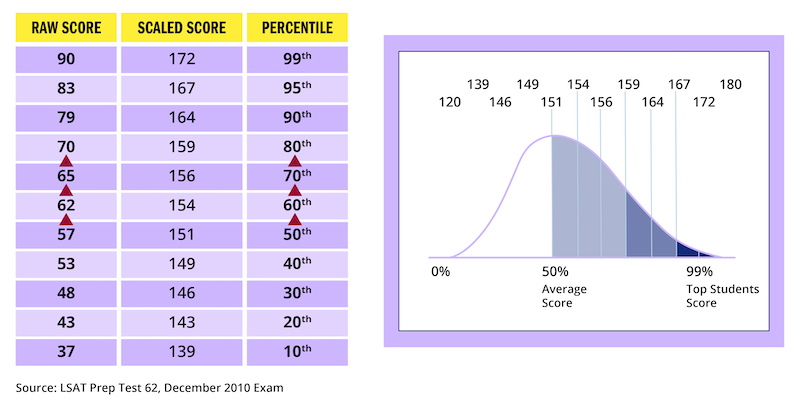 Since there is no wrong answer penalty on the LSAT, you score is determined solely by the number of questions you answer correctly. On a typical test, approximately 57 right answers will produce a score of 151 and land you squarely in the 50th percentile, better than half of all test takers. If you add just five correct answers, you'll move to a 154 and be in the 60th percentile. To a lot of students, that jump of three scaled points (from a 151 to a 154) doesn't sound very impressive, but when you consider that around 130,000 people take the LSAT each year, that increase means that you've passed around 13,000 competitors, applicants potentially vying for the same school(s) you're trying to get into. Notice that each time you add four or five correct answers, you make a comparable leap past the other test takers. That should tell you just how much you can accomplish, even with the limited time before the next test. It should also underline how important it is to get additional correct answers wherever you can on the test, including sections in which you're already relatively strong.
Sample LSAT Practice Schedule
Here's a sample schedule for someone practicing for the LSAT with limited time. It assumes that you have between two and three hours per day to spend on LSAT practice. You can adjust the schedule to account for your own availability, but follow the balance of practice activities and note the section-specific focus for different days of the week.
| | | | | | | |
| --- | --- | --- | --- | --- | --- | --- |
| Sunday | Monday | Tuesday | Wednesday | Thursday | Friday | Saturday |
| Take a full-length LSAT (min. 2 ½ hours for the four scored sections and a ten minute break; Add 1 hour 10 minutes to take a full test with an experimental section and Writing Sample) | Review the first Logical Reasoning section from your Sunday test (30 to 60 minutes) AND practice 25-35 Logical Reasoning questions (two hours) | Review the Logic Games section from your Sunday test (30 to 60 minutes) AND practice 4-6 logic games (two hours) | Do timed sections from a released LSAT (35 minutes each) and review the explanations (30 to 60 minutes per section) | Review the second Logical Reasoning section from your Sunday test (30 to 60 minutes) and practice 25-35 Logical Reasoning questions (two hours) | Review the Reading Comprehension section from your Sunday test (30 to 60 minutes) AND practice 4-6 passages (two hours) | Leave one day per week LSAT free to relax and recharge. Make sure to rest the day before your official LSAT, too. |
With limited time until test day, making and sticking to the practice schedule (or your personal variation on it) is essential. Many test takers who see that their time is running out try to cram in a flurry of tests, without reviewing them or learning why they are getting some questions right, but consistently missing others. Others succumb to panic, throw up their hands, and "wing it" on test day. You have the opportunity to beat both groups and make solid, repeatable improvements in your score. But act now. Take advantage of Kaplan's LSAT expertise and become the author of your own LSAT success story.