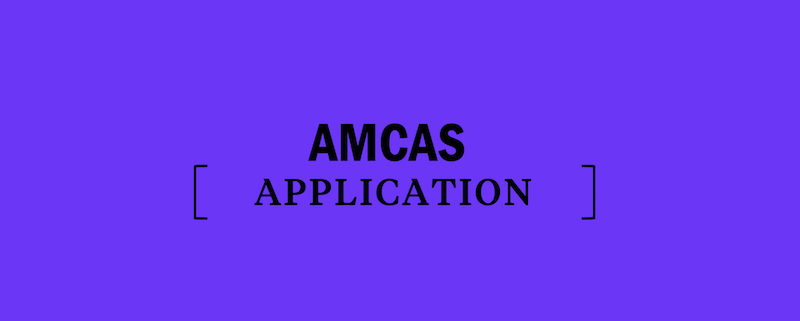 The American Medical College Application Service (AMCAS) is a centralized application processing service located in Washington, DC. The AMCAS does not make any admissions decisions. They simply verify your academic history and process, duplicate, and send your application and MCAT scores to all AMCAS member schools that you designate.
The AMCAS application greatly simplifies the initial stages of the application process. Instead of having to complete individual applications for every single school, you complete just one AMCAS online application. The vast majority of the U.S. LCME-accredited medical schools are AMCAS-affiliated. The AMCAS application ("The Primary Application") can be accessed online at aamc.org.
When does the AMCAS application open?
The AMCAS application becomes available in May for the class entering in the fall of the following year. AMCAS begins accepting completed applications in early June. The Early Decision Program has a deadline of August 1st (or the next business day, if it falls on a weekend). All other deadlines are set by individual medical schools. 
The completed application includes biographical information, school enrollment and transcript data, and your Personal Statement. AMCAS will review and verify your completed application with or without an MCAT score. However, medical schools will want to see the Primary Application form, your transcripts, and your MCAT scores before they consider you for a Secondary Application. Furthermore, they will require the completed Secondary Application and the letters of recommendation before offering an invitation for an interview.
Many schools have a rolling admissions system. This means that those applicants who are reviewed first will be given the first interviews, and subsequently, will be granted admission before other candidates. There is significant competitive advantage to be gained from early submission of your Primary Application, MCAT scores, Secondary Application and Letters of Recommendation.
AMCAS Application Sections 1-3: Background Information
Section 1 of the AMCAS will require you to fill out basic information about yourself, such as name, birthday, sex, and any school ID numbers associated with your application.
Section 2 of the AMCAS includes information about your educational history from high school on. (Check the AMCAS Application Guide for instructions if you received a GED certificate, attended high school in a foreign country, or were homeschooled.) You'll need to list every post-secondary institution you've attended, no matter the amount of time you were enrolled there.
This is also the portion of your application where you'll be required to note any academic actions that have been taken against you because of poor academic performance or behavior, regardless of whether or not these actions appear on your official transcripts.
Section 3 of the AMCAS is where you'll provide more detailed biographical information about yourself. This will include your contact information, ethnicity and race, citizenship, languages spoken, family information, military service, and criminal convictions.
AMCAS Application Section 4: Entering Coursework
Sending Transcripts to AMCAS
You're required to submit an official transcript for each U.S. and/or Canadian post-secondary institution you've attended, even if you were enrolled just one course. Note that the transcript must come directly from the registrar; transcripts coming from students are automatically rejected. 
AMCAS accepts electronic transcripts through third-party vendors or directly from institutions, email and fax transcripts in PDF format from registrars, and paper transcripts with a Pre-barcoded Transcript Request (found in the Main Menu of your AMCAS application) sent to the following address: 
AMCAS, attn: Transcripts, AAMC Medical School Application Services,
P.O. Box 57326,
Washington, DC 20037
Transcripts must be received by AMCAS 14 calendar days (or the next business day) following an individual program's deadline. Use the AMCAS Transcript Processing Tool to determine how long your transcripts will take to be processed, and therefore when you need to have transcripts sent over. 
This section will require you to enter every course you've been enrolled in at any U.S. or Canadian post-secondary institution, including those you did not complete, repeated, failed, have not yet completed, or from which you withdrew. Also include courses in which you've been enrolled that were removed from your transcript because of institutional policy. Keep your transcripts next to you for reference as you complete this section.
For each course, in chronological order, you must provide the following information:
Academic year and term in which the course was taken

Course number and name, exactly as it appears on your transcript

Credit hours

Transcript grade

Special course designations, including AP, audit, CLEP, Incomplete, and Current/Future (CC)
AMCAS Application Section 5: Meaningful Experiences, Work, and Activities
Other than the personal statement, the work and activities summary is the section of the primary application that requires the most writing. You can enter up to 15 experiences (with four occurrences per experience), and select three of those 15 as your "most meaningful" experiences. 
Start by making a list of all of the jobs, volunteer work, honors, awards, extracurricular activities, clubs, and hobbies that you have been involved in post high school. Note that not filling all of the spaces is perfectly acceptable—the goal is quality, not quantity. For example, two years in one research lab will only take up one entry but is much more impressive than several four-month stints working part-time in retail.
One helpful way of deciding which experiences are most meaningful is to categorize your list of ~15 by type, such as "Research/Lab" or "Paid Employment." Use these categories as a guide for what to highlight. Keep in mind that clinical and research experience should take priority; however, aim for a mix of activities.
The next step is to compose a clear, concise description of each of your three most meaningful activities. Give enough context so that the committee understands the nature of the selected activity. How large was the pre-med club of which you were president? What were your duties within this role? Significant accomplishments?
While you shouldn't turn these descriptions into mini-personal statements, some reflection on what you learned/gained from your experience for certain entries, particularly those related to medicine, is appropriate. The goal is to convey how these activities or experiences were transformative to your path to medical school, what kind of impact you made while engaging in them, and how your participation resulted in personal growth. As with every part of the application, good writing and meticulous proofreading are essential.
AMCAS Application Section 6: Letters of Recommendation
Although your letters of evaluation do not need to be completed by the time you submit your AMCAS primary application, you do need to indicate who your letter writers will be, what types of letters will be sent to AMCAS, and which schools should receive which letters (to be completed after you enter medical schools in section 7). AMCAS' Letter Service allows you to send your letters of evaluation to AMCAS, which will then distribute your letters to the medical schools you indicate. You can have up to 10 letters associated with your AMCAS application. 
There are three types of letters of evaluation accepted by AMCAS. Each letter type equals one letter entry:
Committee Letter: A letter written by a pre health professional or advisor representing your post secondary institution's evaluation of you. Committee letters may or may not contain additional letters. 
Letter Packet: A set of letters compiled by your institution, sometimes including a cover sheet from your institution's career center. Letter packets do not include letters from pre health advisors as committee letters do, but they may include other letters from people at your institution.
Individual Letter: A letter written by an individual. Do not include letters here if they have already been included in your Committee Letter or Letter Packet. 
When you are adding medical schools in Section 7 of the AMCAS primary application, you'll be prompted to add letters of evaluation to each medical school. 
AMCAS Application Section 7: Medical Schools
Here you'll be able to select the medical schools to which you want your AMCAS primary application sent. Choose medical schools that fit with your credentials, citizenship status, and ability to pay for all application fees. Do research ahead of time to determine that the schools to which you plan on applying will be a good match for you. 
When you select a school, you'll also be required to select the specific program to which you're applying. Keep in mind that some combined programs, such as MD/PhD or Bachelor/MD programs, require school approval to apply. You may also need special permission to apply to multiple programs at the same school. Contact individual schools for information on how to proceed. 
Once you complete your application, you cannot remove schools from your designated list. You can add schools by adding them in the Medical Schools section of your application and then clicking the Resubmit Application button. 
AMCAS Application Section 8: Essay
The Personal Comments essay, or Personal Statement, can be up to 5,300 characters (including spaces). This is your opportunity to explain what makes you a unique medical school applicant, and to mention anything that hasn't been covered in your application already. 
Due to potential formatting issues, it's advised that you either type your Personal Comments essay directly in the text field or type it first in a text-only word processing software (such as Microsoft Notepad or Mac TextEdit) and copy and paste into the application text field. 
If you're applying for an MD/PhD program you'll be required to write two additional essays: 
MD-PhD Essay: In 3,000 characters or less, explain why you are pursuing a joint MD-PhD degree. You'll also be asked to enter your total number of research hours.
Significant Research Experience Essay: In 10,000 characters or less, describe your most significant research experiences. Include the nature of the research, the research director's name and affiliation, how long you were involved, and how you contributed to the research. If a publication resulted from the research effort, include the citation in the Work/Activities section of your application. 
AMCAS Application Section 9: Standardized Tests
Any MCAT scores earned in 2003 or later are automatically released to AMCAS if you do not cancel your score at the testing center immediately following the test. Ensure that any MCATs you have taken are included in this section of the application. If you have not yet taken the MCAT or plan to retake the MCAT, make a note of your test date so that medical schools know to expect an update from you. Once you've taken the MCAT, remove the test date to keep your application current. 
You do not have to have taken the MCAT already in order to submit your AMCAS primary application. AMCAS can distribute your application without MCAT scores, as long as you add your scores after you test. Keep in mind that most medical schools require MCAT scores to be a maximum of three years old. 
If you're applying to a joint program that requires an additional standardized test, such as the GRE, GMAT, LSAT, or a GRE Subject Test, click "Add Test Score" under "Other Tests."
Once you've verified all your information and proofread anything you've written in your primary application, accept the conditions of the submission and input your credit card information. 
You can make only limited changes after submitting your application, including but not limited to the following:
Change ID numbers, name, contact information

Add letters of evaluation

Add an MCAT test date

Add a medical school
For more information about the AMCAS primary application, see the 2020 AMCAS Application Guide.