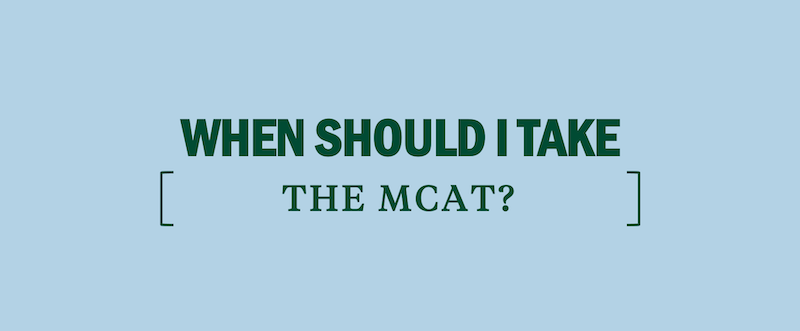 There are 30 MCAT test dates to choose from in 2021. When deciding on an MCAT test date, consider the fact that you'll need 3-5 months to study and that your MCAT scores should be ready by the time medical school applications open in June. Other factors include whether or not you want a weekend test date, seat availability at your preferred testing center, and personal obligations.
Taking just a little bit of time now to determine your future test date can put you ahead of the game and help you develop a strong plan for your MCAT success.


Aeri Kim, MCAT Instructor
"Try out different study schedule methods to help you stay on track. Students commonly over-budget themselves, then abandon the schedule because they're "just not a scheduling kind of person". Instead, the study schedule should be adaptable and fluid so that it's a useful tool, not a source of stress."
The importance of choosing an MCAT Test Date
In 2020, the MCAT will be offered in January and every month from March through September. With so many test dates coming up, it can be easy to put the decision on the back-burner, but think about it like this: lots of longer-term decisions—like when to schedule your test prep—depend on your MCAT test date. So taking just a little bit of time now to determine your future test date can put you ahead of the game and help you develop a strong plan for your MCAT success.
Testing in time for your application
We generally recommend that students give themselves at least three to five months to prepare for the MCAT. As such, if you want to test in January or March, then you'll want to get started in September or October. If you're testing in April, May, June, or July, then January or February is the perfect time to
get started on your prep
.
Remember that the application cycle opens in June of each year, and you will want your official MCAT score to be released and ready to go when you submit your application. That way, your application can immediately be considered as soon as it is received, since most schools operate on rolling admissions.
Is the January MCAT right for you?
If you have completed all or most of your
MCAT prerequisite coursework
, you are definitely a candidate for taking the January exam. Even if you are completing those courses this term, you can still be ready for the January MCAT test date.
If this describes you, it's a great idea to get your MCAT preparation and administration out of the way early in the year. Taking the January exam will allow you to put the MCAT portion of your application away for the Spring term so you can free up your focus for the application itself—including the preparation and revisions of your personal statement.
In addition, a lot of students choose to take the MCAT in January because there is usually a lot of break time leading up to the test date, which provides a nice chunk of time for them to focus on MCAT prep without the distraction of classes and finals.
Are the March, April, and May exams right for you?
March, April, and May have historically been—and will likely continue to be—the most popular testing months because they occur before the application cycle opens in June. While these Spring months might seem far away, now is the perfect time to get started preparing for these exams so you can comfortably pace your MCAT study and not be rushed into cramming—an unadvisable strategy when it comes to preparing for standardized tests—during the Spring terms.
As the official MCAT prep of the AMSA, Kaplan has many MCAT classes to prepare you for any test date. You can register months in advance, so you can enroll and save your spot for when they begin. This way of thinking ahead has an additional payoff: Even though you might not start your MCAT class meetings right away, once you enroll, you get access to your Kaplan materials and can get a jumpstart on your preparation.
What about the summer MCAT test dates?
The MCAT test dates scheduled for the summer are ideal for students who want to spend the academic year completing coursework and therefore need to dedicate their summer months to studying. If you are planning on taking the MCAT in June, you will want to start your preparation no later than February, but if you are thinking of July, August, or September, you can wait until the latter part of the spring to get started.
Testing in summer allows you to intensely study for the MCAT without worrying about classwork. But just remember—if you wait until these later exam dates to test, you will be entering the application cycle once it is in full swing.
Why you should start prepping for the MCAT now
As you start to think about your MCAT prep and how it affects—and is affected by—your chosen MCAT test date, remember the immediate benefits of taking an MCAT prep course: As soon as you enroll, even if your class sessions aren't starting for months, you get access to all of your materials, including the review books,
the MCAT Channel
, and Science Review Videos.
A lot of students who want to get a leg up on their competition start using those materials right away—not just to jump start their MCAT prep, but also to get the edge in their undergraduate courses. Take a page from their book and you'll in essence be killing two birds with one stone: prepping for the MCAT while getting extra resources for your classes.
Here's one good way to get the most out of those resources. For example, if you are taking biochemistry this year, you could use the MCAT Channel sessions and Science Review Videos that focus on biochemistry to give yourself a boost in those courses—think of it as background material. Also, your access to the Review Notes, which nicely summarize the big topics of biochemistry, could give you an added advantage. Might as well get the maximum value out of enrollment, with the longest course access possible leading up to your test date—it's just extra time to prepare for the exam and simultaneously fortify your knowledge of the topics that will help you get into, and succeed in, medical school.
When to Register for the MCAT
It's crucial that you check
the registration dates
for the date you want to test ahead of time. Historically, testing seats fill up very quickly—some in less than 24 hours—, and we expect the same to occur this year. You might say that MCAT seats were just as popular as the hottest music events!
Of course, in order to register, you'll need to know which MCAT test date you're going for—just another reason to select it now so you are prepared. (Notice how much we're emphasizing this?) Take some time now to build out your calendar for the next few months. Include personal, academic, and professional obligations so the date doesn't doesn't sneak up on you.
Top 4 Considerations When Choosing an MCAT Date
In summary, there are several factors that MCAT test takers should take into consideration when deciding when to test.
No matter when you choose to test, you can still get started now and spread your preparation out. Even if you haven't completed your prerequisite courses, reviewing old content can ensure you stay fresh and up to date. At any point, signing up for a
Kaplan MCAT course
gives you access to our Review Books,
The MCAT Channel
, Science Review Videos, and much more.
https://www.kaptest.com/study/wp-content/uploads/2021/04/Screen-Shot-2021-06-17-at-11.04.46-PM.png
331
800
admin
http://wpapp.kaptest.com/wp-content/uploads/2020/09/kaplan_logo_purple_726-4.png
admin
2021-06-17 17:53:00
2021-06-18 05:07:52
When Should I Take the MCAT?