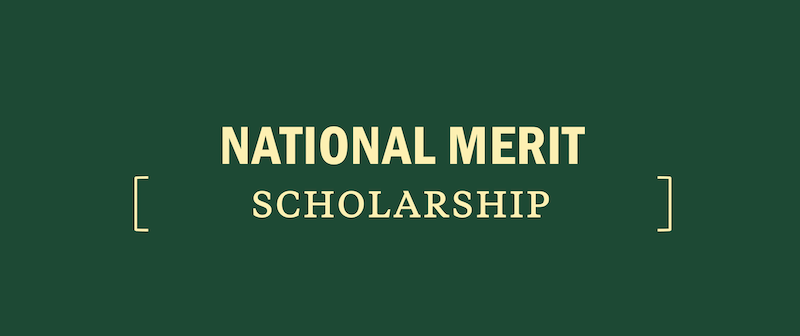 Winning a National Merit Scholarship can mean thousands of dollars each year of college, which can make a big dent in tuition. There are a few steps for qualifying, and you have to meet certain criteria.
What is the National Merit Scholarship?
The National Merit Scholarship is offered by the National Merit Scholarship Corporation. Each year, almost 10,000 students receive scholarships based on their PSAT scores and other accomplishments. There are three main types of National Merit Scholarships: National Merit $2500 scholarships, corporate-sponsored scholarships, and college-sponsored merit scholarships.
How do you enter the National Merit Scholarship competition?
The first step is to take the PSAT no later than your junior year of high school. You must also be a U.S. citizen or a lawful permanent resident intending to become a citizen as soon as you can. Your scores are automatically sent to the National Merit Scholarship Corporation, the National Hispanic Recognition Program, the National Scholarship Service, and the Telluride Seminar Scholarships.
In addition, College Board, which creates and administers the PSAT, partners with groups such as the Asian & Pacific Islander American Scholarship Fund, the Cobell Scholarship (awarded by Indigenous Education, Inc.), and The Jackie Robinson Foundation to connect test takers with scholarships based on their test scores. You can find more information about these programs on College Board's website.
[ RELATED: What is the PSAT? ]
How do you get a National Merit Scholarship?
If you think you might make it to Semifinalist status, congrats. There are a few more steps you will need to go through to become a Finalist. First, National Merit Scholarship Corporation will contact you if you make it that far. In order to become a Finalist, you must then:
complete the National Merit Scholarship Application, which includes writing an essay
have a record of very high academic performance in all of grades 9 through 12 and in any college course work taken
be fully endorsed for Finalist standing and recommended for a National Merit Scholarship by your high school principal
provide any other documentation and information that the National Merit Scholarship Corporation requests
Scholarship winners are usually announced and notified between March and mid-June of their senior year.
Each year, the top 50,000 scorers on the PSAT get commendation letters from the National Merit program, and 16,000 of those students qualify as Semifinalists. The cutoff score for Semifinalists varies by state and by year. Semifinalists are invited to complete the National Merit Scholarship Application, which includes writing an essay.
Of the 16,000 Semifinalists, about 15,000 will be considered Finalists. About half of the Finalists will eventually be chosen as Merit Scholarship winners. According to the National Merit Scholarship Program, "scholarship recipients are the candidates judged to have the greatest potential for success in rigorous college studies and beyond."
What score do you need to become a National Merit Scholarship semifinalist?
This depends on the state you live in. Each state has a preset number of Semifinalists, and once scores come in for students that determines the cutoff score for that year in that state. For example, if you live in California and took the PSAT in October 2017, you would need to have a Selection Index score of 223 in order to qualify as a Semifinalist. If you lived in West Virginia, you would have to score a 212.
The Selection Index score is calculated by doubling the sum of your Reading, Writing and Language, and Math Test scores. In addition to varying by state, this number can vary by year. Regardless of the exact cutoff for your state, all of the students who qualify earn high scores—less than the top 1% of high school students advance to become Semifinalists.
Take a look at your score report if you have it. To calculate your Selection Index, add your 3 test scores together and double it. The College Board also includes this on your report if you're eligible.

Alabama: 216
Alaska: 215
Arizona: 220
Arkansas: 214
California: 223
Colorado: 221
Connecticut: 222
Delaware: 222
D.C.: 223
Florida: 219
Georgia: 220
Hawaii: 220
Idaho: 214
Illinois: 221
Indiana 219
Iowa: 216
Kansas: 218
Kentucky: 218
Louisiana: 217
Maine: 217
Maryland: 223
Massachussetts: 223
Michigan: 219
Minnesota: 220
Mississippi: 215
Missouri: 217
Montana: 214
Nebraska: 216
Nevada: 218
New Hampshire: 219
New Jersey: 223
New Mexico: 215
New York: 221
North Carolina: 220
North Dakota: 212
Ohio: 219
Oklahoma: 215
Oregon: 221
Pennsylvania: 220
Rhode Island: 220
South Carolina: 216
South Dakota: 215
Tennessee: 219
Texas: 221
Utah: 215
Vermont: 216
Virginia: 222
Washington: 222
West Virginia: 212
Wisconsin: 216
Wyoming: 212

U.S. citizens studying abroad: 212
U.S. territories: 212
Commended student (national score): 212
[ NEXT: What's a good PSAT score? ]
[ ALSO READ: What's a good SAT score? ]
https://www.kaptest.com/study/wp-content/uploads/2019/07/national-merit-scholar-scholarship-finalist-get-how-to-college-admissions-psat-score-scores-scoring-sat-act.png
336
800
admin
http://wpapp.kaptest.com/wp-content/uploads/2020/09/kaplan_logo_purple_726-4.png
admin
2021-10-04 14:03:11
2021-12-17 18:52:55
How to Become a National Merit Scholarship Finalist