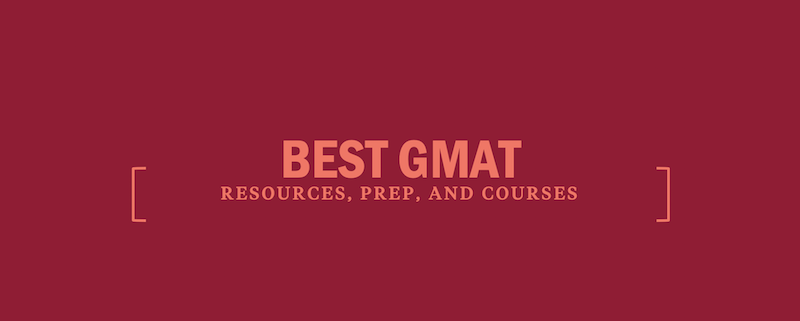 Studying for the GMAT can seem like a daunting process, especially considering all of the prep options out there. To ensure you reach your target score, you'll want to invest in the best GMAT prep available.
Most people spend about three months studying for the GMAT. Everyone has different learning styles, and you know best what kind of prep will work for you. Before deciding on a study plan or the type of GMAT prep to purchase, be sure to consider:
Once you've identified your needs and cemented a timeline, you can begin to weigh your options. Here are the best ways to prep for the GMAT.
Types of GMAT Prep: Pros/Cons
One-on-one instruction

Completely personalized lessons and feedback for the most score improvement

Works with your schedule

Effective studying, since you'll be focusing with someone else
More expensive than other prep options

Entirely online, so you can attend wherever you have internet

You also have access to recorded lessons, so you'll be able to catch up if you need to miss class.

Taught by Kaplan's best teachers, with other great instructors standing by to answer questions in the chat
No physical instructor present to keep you accountable and focused

Although it's okay to miss class and watch recorded classes later, you'll get the most out of the live, interactive classes. This means your schedule should be somewhat predictable.
Total flexibility. You can complete the course whenever and from wherever you want.

You can choose from an arsenal of study materials to completely personalize your prep.

You have total control over how long you prep, and you can cater your prep to your test date, even if it changes.
You're the only one keeping yourself accountable, which makes it more difficult to keep on track for your test date.
You can prepare for the GMAT very quickly, meaning that you can choose a GMAT date in the near future and still be prepared.

Studying quickly makes it harder to retain information.

There's little flexibility in bootcamp, so you should expect to spend most of your time in class or studying.
Who needs GMAT test prep?
Anyone studying for the GMAT will benefit from some kind of structured test prep. Since the GMAT tests huge amounts of information as well as skills, following an expertly-created GMAT prep schedule and practicing tried and true test-taking strategies will make a big difference in your score. Read on to learn which types of GMAT prep will be a good fit for you.
Getting a private GMAT tutor is a great option for anyone preparing for the GMAT, but may be especially helpful if you learn best through one-on-one, face-to-face interaction. If you learn by talking through ideas and getting immediate personalized feedback on your work, a GMAT tutor is the best way to make progress towards your goal score. 
If you learn by asking questions and taking notes, and enjoy the flexibility of attending class from your home, consider taking a GMAT Live Online class. If you're comfortable making your home a study space for a few months, this will be a great fit for you. These classes are taught by the best teachers Kaplan has to offer, with additional excellent teachers on standby to answer any questions asked in the chat.
UPDATE: Due to COVID-19, in-person prep options are on hold indefinitely. For those that prefer this learning environment, we recommend our Live Online Classroom options mentioned above.
Online learning is our new normal.
GMAT Self-Paced Online Course
If you're an expert at organizing your time and/or have a schedule too hectic for GMAT class at a set time, sign up for our GMAT Self-Paced Online Course.
GMAT Bootcamps are designed for anyone who needs to study as much as possible in a short amount of time. If you signed up for the GMAT last-minute, or if you've put off studying until 2-3 weeks before the GMAT, Manhattan Prep's GMAT Boot Camp is for you. 
COMPARISON: BEST GMAT PREP COURSE REVIEWS (2020)
| | KAPLAN GMAT PREP COURSES | MANHATTAN PREP GMAT PREP COURSES | MAGOOSH GMAT PREP | PREPSCHOLAR GMAT PREP |
| --- | --- | --- | --- | --- |
| SELF-PACED COURSE ONLINE INSTRUCTION | up to 74+ hours of recorded and archived instruction available | 35+ interactive lessons | 340 videos | Dozens of lessons |
| LIVE ONLINE COURSE INSTRUCTION | up to 48+ hours of live instruction, plus 3 hours of 1-on-1 tutoring | 27 hours of classroom instruction, plus 3 hours of 1-on-1 coaching | 6 hours of tutoring with Premium | Tutoring option available |
| GMAT PRACTICE QUESTIONS | 5,000+ questions (including Qbank) | Thousands of practice questions | 1,300 | 1,000+ |
| FULL-LENGTH PRACTICE TESTS | 9 | 6 | 2 | 4 |
| GMAT PREP BOOKS | 2 | 6 | 0 | 0 |
| ONLINE COURSE ACCESS | 6+ months | 6-12 months | 12 months | 4 months |
| GMAT COURSE PRICING | $599+ (as low as $50/month) | $359+ | $219+ | $259+ |
Frequently Asked Questions About GMAT Prep Courses
Is a GMAT Prep Course Worth It?
Regardless of where you stand with your GMAT prep, enrolling in a GMAT prep course is the most reliable way to both stay sharp on material that may be older to you, and to learn all the new material necessary to reach your goal GMAT score. Live Online, Self-Paced, and Practice prep options have the resources you need to master all subject matter tested on the GMAT, like practice tests, study plans, practice questions, and more.
Which is the best online GMAT prep course?
The
Manhattan Prep
and
Kaplan GMAT Prep Course
options provide the greatest range of materials to get you read you ready for GMAT test day including hands-on instruction, self-prep, diagnostic exercises, and much more.
How much does a GMAT prep course cost?
GMAT prep courses cost as low as $299.
Kaplan
and
Manhattan Prep
offer low monthly payment options that can help make some of the more expensive GMAT prep course options become affordable for those who may otherwise have a lower budget for their GMAT studies.
How difficult is the GMAT test?
The GMAT test is difficult for many, though all GMAT test takers' experiences vary. By purchasing a GMAT prep course to get you ready for test day, you'll be sure to have the tailored prep needed to help you meet your
goal GMAT score
.
Studying with a book is a good way to delve into the GMAT. Look for books that not only have content review, but also provide you with plenty of practice tests and online practice resources—you'll want to get computer-based practice before Test Day. Use a book if you're looking for an introduction to GMAT prep before you begin a course or if you're an exceptional self-starter with no time for a scheduled GMAT course.
If you're looking to fine-tune your prep rather than taking a full course or studying with comprehensive books, consider these prep tools.