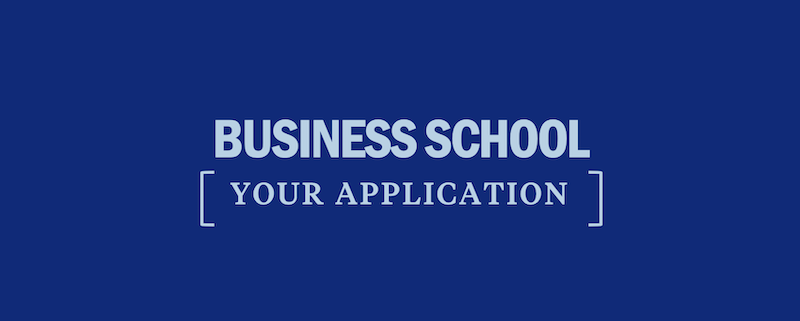 When it comes to applying to business school, think of yourself as "the product." Your application is your marketing document. Marketing yourself doesn't mean that you should exaggerate or embellish the facts. It simply means that you need to make a lucid and convincing presentation. Everything on your application should contribute to an overall picture of yourself that clearly demonstrates that you belong in the class and will make a solid contribution to the learning of your peers.
Sell yourself. Your application should look like it's the only one you are submitting. The admissions committees don't care if you cranked out 6 applications in 2 weeks—they only see one application, so make sure it's worth it.
Understanding how each school's application cycle operates can help you determine the best time to submit your application. Some schools use "rolling admissions," which means they review applications on an ongoing basis and commit to responding within a given time period after receiving your completed application. Other schools set specific deadlines so that everyone applying by a certain date will get responses at a scheduled time, generally 4-6 weeks after the deadline.
There are potential risks and rewards regardless of when you apply. However, the general rule of thumb is that it's better to apply early rather than later. This holds true because as the deadline approaches, candidates are competing for fewer spaces. Also, by applying early, you are showing a strong interest and commitment to earning your MBA.
Possibly. At the start of the admissions season, committees need time to "calibrate" the yardstick by which they'll measure candidates that year. They may still be trying to get a feel for the strength of the applicant pool as it does vary from year to year. As a result, schools may be less consistent in their judgments and also less likely to give you—or anyone—the benefit of the doubt. And because the application season is just starting, they are under little or no pressure to fill class slots.
In addition, because there are fewer applications in the early stages, you may be scrutinized more closely. And typically the first period contains very strong applicants. That being said, at the start of the application season, there are more places available than there ever will be that year. So overall it's important that you apply when you have the best application possible.
Your Business School Application Essay
Most b-schools require 4-6 essays on leadership, skills, strengths and weaknesses, your career goals, and why you want an MBA. Admissions officers are interested in getting to know you as a person–beyond your G.P.A, test scores, etc. The application essay is the best tool they have at their disposal to achieve that. What you choose to write sends clear signals about what's important to you and what your values are.
Essays are the best way for admissions officers to determine who you are. So don't hesitate to go beyond your current job experience for essay topics. Feel free to discuss other events that help define who you are. If you have overcome significant obstacles, say so. If you were honored with an award, describe the award and what you did to achieve recognition.
Business schools ask similar essay questions. Common topics include significant accomplishments, reasons why you are pursuing an MBA, career goals, and ethical dilemmas that you faced while in business. There are no right or wrong answers to essay questions, and you should be honest and write about what you know, as opposed to trying to write what you think the admissions committee wants to hear.
Top 5 Application Essay Tips
1. Directly answer the essay question
2. Demonstrate a fit with each school
3. Be genuine and unique
4. Tell stories that make your essays interesting
5. Ask other people to read your essay and give you feedback
Your Resume
&

Work Experience
Your professional experience will be evaluated throughout your application. Most schools prefer 2-3 or even up to 4-6 years of full-time work experience. Experiences you've had, both professional and personal, made you who you are today, and b-school admissions officers want to know what you will therefore contribute to next year's MBA class.
You'll want to showcase your growth in your role, how you excelled, your management skills and how you made a contribution to your organization. In addition, work experience is the best indicator of your potential to succeed and make an impact in the business world. Don't forget that alumni are the product of the school—and its most effective advertising vehicle. You need to prove to the school that you are and will continue to be successful in your career.
Your resume serves as an important part of your business school application because it provides a concise but comprehensive overview of your professional history and relevant personal information. Imagine that the reader knows nothing about your experiences. Use active and specific language to discuss how your experiences have affected you and what you accomplished through them, and write for a general audience—don't use industry-specific jargon or terminology. And remember, admissions officers are looking for evidence of leadership and management skills. It's important to shape your resume accordingly by focusing on your accomplishments rather the tasks of the job itself.
Surviving an Admissions Interview
While not every b-school requires an interview, for many it is an important requirement for admission. Some schools use interviews to evaluate borderline cases. Whatever the reason for the interview, it's important that you schedule with the admissions officer early.
1. Review your application. In some cases, the interviewer is likely to ask specific questions about it. Be ready to relate several stories on how you took initiative or participated in a leadership role.
2. Ask good questions and make sure the answer is not on the school's web site or application.
3. Be prepared to give a convincing answer to the inevitable questions: "Why business school?", "Why our school?", and "Why now?"
4. Follow proper business decorum. Watch your non-verbal clues, such as eye contact, posture, and fidgeting. And, be courteous to the administrative staff. How you treat them can have an impact (positive or negative).
5. Write a thank-you note.