You can always count on scoring a good deal on SAT test prep with Kaplan during Black Friday and Cyber Monday sales. In 2020, Black Friday lands on November 27 and Cyber Monday is November 30. Our Black Friday and Cyber Monday deals will be featured across our site, including here. 
Many students spend about 10 to 20 hours per week studying for the SAT, though that number can be smaller or larger depending on your score goal. We recommend that you give yourself at least 2-3 months to prep. Starting your prep in December or early January is ideal if you are taking the March SAT, but we have schedules that will get you prepped in time for any 2020 test date. 
Whether you want to prep with a teacher or prep on your own,  we've got what you need to get you one step closer to that acceptance letter. 
[ RELATED: How do I sign up for the SAT? ]

[ LEARN MORE ]
We offer classes Live Online, In Person, or 1-on-1 through Private Tutoring. We've raised thousands of scores in our over 80-year history. Yours is next.
[ LEARN MORE ]
In our SAT Live Online course, you'll learn from our best teachers. You'll meet in an online classroom, so you can study wherever you like (as long as there is some WiFi). One teacher is on camera leading the class, and additional instructors are leading the group chat and answering your personal questions as you have them. No more waiting for a good time to raise your hand. Our teachers know the test—and how to maximize your engagement for higher scores.  
All SAT Live Online classes include:
18 hours of core, live online instruction

30 hours of elective, live instructions on the SAT Channel

40 hours of on-demand lessons

8 practice tests, including 4 College Board official practice tests

Online quizzes and Qbank

SAT prep books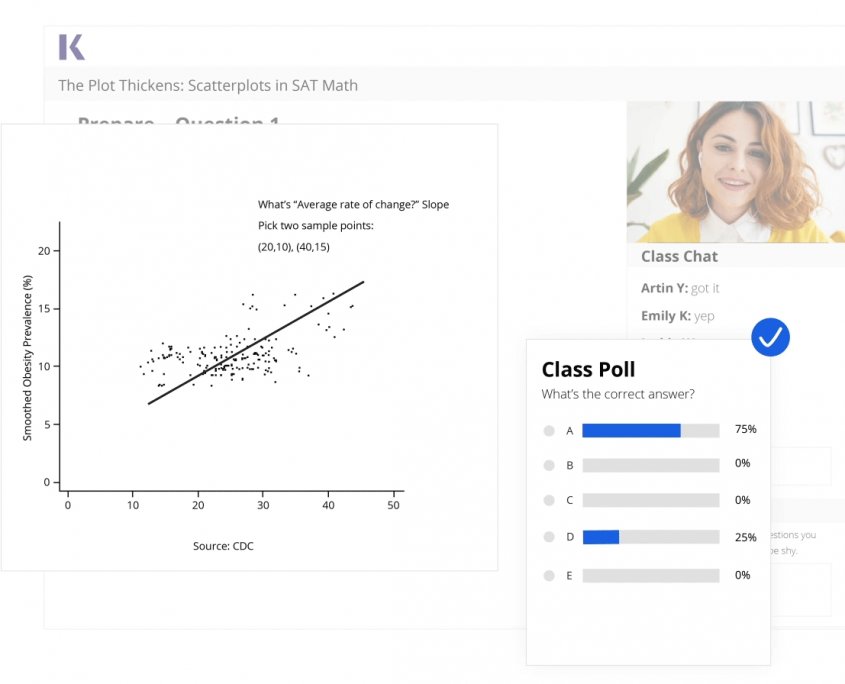 You can upgrade to Live Online PLUS and also receive:
3 hours of 1-on-1 coaching

Math Foundations

ACT prep resources
[ LEARN MORE ]
If you prefer a traditional classroom environment, our In Person SAT course is a great fit. With a variety of schedules, you could choose a class that fits best with what you already have going on. You'll build SAT skills face to face, engaging with one of our expert teachers who'll keep you on track. All In Person classes come with access to our exclusive SAT Channel, which has ongoing live and on-demand lessons on a variety of SAT topics to supplement your prep.
Private Tutoring SAT Prep
[ LEARN MORE ]
Our teachers will stop at nothing for your high score. In Private Tutoring, you'll be matched with an expert Kaplan tutor based on your needs. All of our tutors are chosen based on their extensive knowledge and empathy. Your tutor will tailor your study plan to make sure you are focused on topics and strategies that will get you the greatest returns, raising your score strategically. You can choose to meet with your tutor in person or online—we'll meet you where you are.  
All of our Tutoring packages include:
10, 20, or 40 hours of private, 1-on-1 tutoring

4 full-length practice tests with score analysis

2 prep books and access to on-demand practice questions

A full complimentary Live Online or In Person course
Kaplan's SAT Prep On Demand Course is a flexible program that can be completed in a month. Teachers lead you through this streamable learning experience with over 50 instructional videos and 1000+ practice questions. 
[ LEARN MORE ]
Practice like it's test day with our SAT Qbank. You can customize quizzes to focus your prep on where you need it most. All of our questions come with detailed explanations and a report that helps you focus your studying, showing you where to go next.
[ LEARN MORE ]
Our College Prep Pass gives you everything you need, in one place, and you can keep it as long as you want. The flexible subscription plan gets you access to a complete on-demand prep course for the SAT. You'll be able to stream 100+ hours of lessons, take quizzes, and get practice for the real thing with 17+ full-length tests. Study what you want, as much as you want, when you want.

[ 
LEARN MORE
 ]
Our comprehensive test prep books give you content review for each section of the SAT, some of our best test-taking strategies and tips, and full-length practice tests. All of our books are available for purchase on
Amazon
.
0
0
admin
http://wpapp.kaptest.com/wp-content/uploads/2020/09/kaplan_logo_purple_726-4.png
admin
2019-11-09 10:21:27
2020-09-11 20:40:28
Black Friday and Cyber Monday SAT Deals