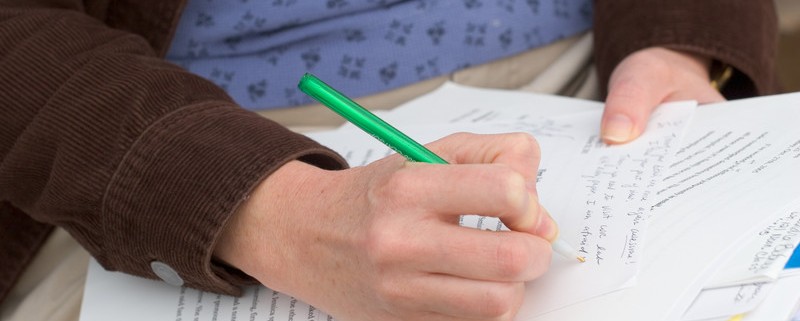 Well, it's official. The numbers are in from America's top colleges and universities, and this past application was one for the record books: more applications and record low admit rates. Here are some of the latest stats:
These numbers are NOT meant to discourage you. College admissions has always been competitive and remains competitive. What it means is that you continue to strive for your best, put your best foot forward, and put together the strongest application possible.
While your test scores and GPA give you academic cred with college admissions officers, it's your college application essay that really helps you stand out among other applicants. Unlike a list of numbers, it answers the question they really want to know—what makes you you?
For some applicants, writing your college admissions essay can be the most challenging part of the application process. But it doesn't have to be. At Kaplan, we encourage students to see at is as an opportunity, not a roadblock. By the time you apply your senior year, your GPA is already baked in and you might not be taking the SAT or ACT again, so this is the last piece of the application that's entirely in your hands.
But where do you start? What do you write about? When students can tell a sincere and persuasive story, colleges get a better sense that these prospective students can bring unique experiences to the college environment.
Director of College Admissions at Kaplan Cailin Papszycki says: "The key is to inspire using a personal story that captures this quality. For example, did you overcome extreme shyness by shining in the school musical production? Did a family crisis change your outlook on life and make you a better child or sibling?"
But don't just tell a story, cautions another expert. "Stories and anecdotes are an integral part of showing your reader who you are, but a good rule of thumb is to make these no more than 40% of your word count and leave the rest of your words for reflection and analysis."
Tips for Stellar Admission Essays
Most universities require at least one essay as part of your college application, but many also require two or more essays of various lengths. Here are some do's and don'ts to help you start off on the right foot and avoid common college application essay mistakes:
DO revise often and early. Your college application essay should go through multiple stages of revisions. We're not talking about a quick proofread; you should ask parents, teachers, and even your peers to read through your essay drafts and give you substantial critical advice.
DO use the first person. Avoid generic third person pronouns like "one" or "students." This essay is about you!
DO say what you mean, and mean what you say. Be authentic, but not too boastful or self-deprecating. Be specific, clear, and concise. Using a thesaurus can help you find the exact word you want to convey a feeling or emotion.
DO start writing your essay early. Writing your college essay is not a task that you should put off until the last minute. In fact, you can give yourself a huge advantage by starting today.
DON'T expect your first draft to be perfect. Getting started is the biggest hurdle to overcome. Your first draft isn't your final draft! Get past the first step; then go back and finesse the rhythm, pacing, and momentum.
DON'T rehash your resume or your LinkedIn profile. The college admissions committee has already seen a list of your extracurricular activities, volunteer work, honors, and awards you've received elsewhere in your college application. The essay portion should portray you as a mature, thoughtful individual, so find a personal story that reflects these qualities.
DON'T rely on famous quotes to do the heavy lifting. If you have a quote that particularly speaks to you, tell the readers why those words are so meaningful—don't just regurgitate. In the same vein, avoid overly used clichés, maxims, and other common phrases. If you've heard it before, chances are the college admissions officers have heard it hundreds of times more than that.
DON'T make your essay read like the dictionary. Vocabulary words definitely belong in your SAT essay, but you want to sound like yourself and convey your own voice in your college application essay. If you wouldn't ordinarily describe sharing meals with your family as a "salubrious assemblage of kin" your college essay is NOT the place to start. It will come across as disingenuous to admissions officers.