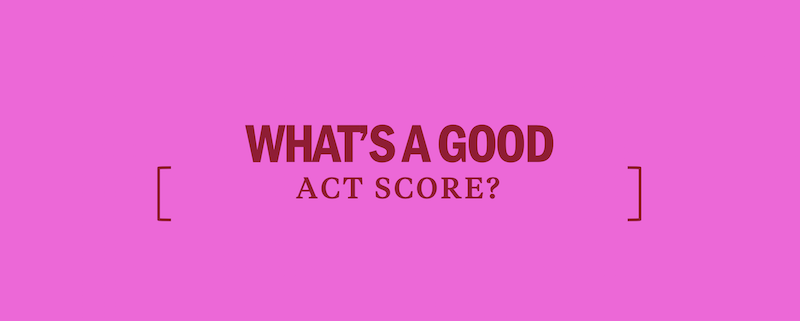 Not sure what a good ACT score is? What's a bad ACT score? Have no fear! When setting your ACT score goal for 2019, it's always a good idea to look at the score averages for the schools to which you're applying. There are helpful college profiles that include information about average scores, total enrollment, tuition, and financial aid. As you browse your college choices, you can keep the following in mind about your ACT score:
These scores will put you in the top 10% of all test takers
ENGLISH: 29 – 36
MATH:  28 – 36
READING: 30 – 36
SCIENCE: 27 – 36
COMPOSITE: 28 – 36
These scores will put you in a highly competitive place in admissions (top 25% of all test takers)
ENGLISH: 24 – 28
MATH:  24 – 27
READING: 25 – 29
SCIENCE: 24 – 26
COMPOSITE: 24 – 27
These good ACT scores put you ahead of the pack (50%+), but won't be as advantageous when applying to highly competitive programs
ENGLISH: 20 – 23
MATH:  20 – 23
READING: 21 – 28
SCIENCE: 21 – 25
COMPOSITE: 20 – 26
These scores may be enough to get into a wide variety of college programs, but will be below average compared to the testing population
ENGLISH: 19 or lower
MATH:  19 or lower
READING: 20 or lower
SCIENCE: 20 or lower
COMPOSITE: 19
The ACT is scored on a 1 – 36 scale in each section in 1 point increments. The 4 multiple choice sections (English, Math, Reading, and Science) will all have scores provided separately. This relatively small scale means that small improvements in your score can make a big difference in your percentile ranking (sometimes, a 1 point increase in your score can boost your percentile ranking by 5 points).
Remember that on the ACT, you are NOT penalized for wrong answers. Understanding the scoring and knowing how to approach each section is important part of doing your best on test day.
Keep in mind that your ACT score does not stand alone. Whether or not you are admitted to a college program (and whether or not you receive scholarship money) depends on several factors. In addition to focusing on getting the best ACT score possible, you should also work on obtaining the best GPA possible, writing a spectacular personal statement, taking a challenging course load, and rounding out your application with extra-curriculars.