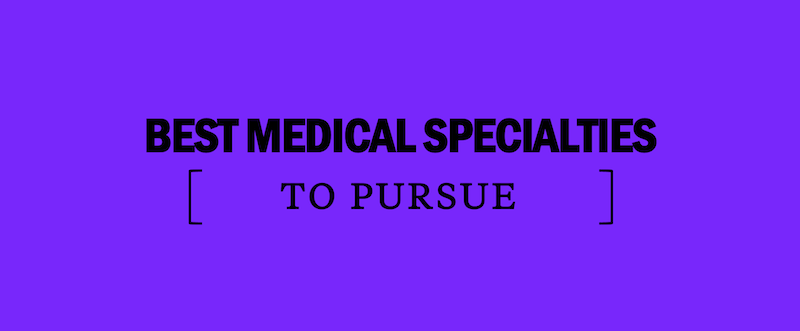 So you're planning on going into the medical field? Advancements in technology create new specialties and treatment options. Medical practices are becoming more complex, requiring more administrative help—and that's just the beginning.
To help you figure out where you best fit into the medical mix, we put together experts' predictions for the fastest growing healthcare jobs and highest paying physician specialties.
[ RELATED: Browse MCAT Class and Test Options by State ]


Medical Careers In Demand: Fastest Growing Jobs
Based on recent statistics from the U.S. Bureau of Labor Statistics, healthcare employment will continue to grow significantly through 2028 in the following areas, among others:
Overall, inpatient care positions, like hospital jobs, aren't expected to change as drastically as outpatient fields, which show the most potential for growth.
Want an even clearer forecast? These are not only the fastest growing jobs in the healthcare profession, but in all professions—a very promising sign of the climate ahead for prospective medical students and others starting out the medical field.
DOWNLOAD OUR FREE MCAT STUDY GUIDES
Highest Paying Medical Specialties
After four extra years of school, the struggle to pay tuition, 60-hour weeks, night shifts,
board exams
, high stakes, and whatever other challenges you might encounter and work through as a medical student … it's natural that you would want the largest return on your investment you could get—while still pursuing your dreams, of course. Needless to say, salary often plays a big role in helping medical students choose their future specialities.
While we're looking ahead, here are some projected
top-paying medical specialties
in the upcoming year:
Orthopedic Surgery: $464,500
Cardiology (invasive): $461,364
Cardiology (non-invasive): $447,143
Gastroenterology: $441,421
Urology: $424,091
Hematology/Oncology: $396,000
Dermatology: $370,952
Radiology: $368,250
Pulmonology: $351,125
General Surgery: $336,375
[ GOOD TO KNOW: How to Choose a Pre-Med Major ]
Speciality you're going for not listed here? Don't worry—doctors' salaries still tend to exceed those of many other professions. In other words, your hard work and noble pursuits are very likely to pay off, no matter what speciality you pursue.
Just remember—the key to success and fulfillment in any field is not about how much you make, but how much you love what you do. You may spend most of your career on call, meeting the needs of others, so make sure your chosen field will satisfy you emotionally, as well as financially.
[ BEST 10 MEDICAL SCHOOLS BY SPECIALTY ]

https://www.kaptest.com/study/wp-content/uploads/2021/05/Screen-Shot-2021-06-17-at-7.55.47-AM.png
331
800
admin
http://wpapp.kaptest.com/wp-content/uploads/2020/09/kaplan_logo_purple_726-4.png
admin
2021-05-13 09:52:03
2021-06-17 13:58:32
Best Medical Specialties to Pursue