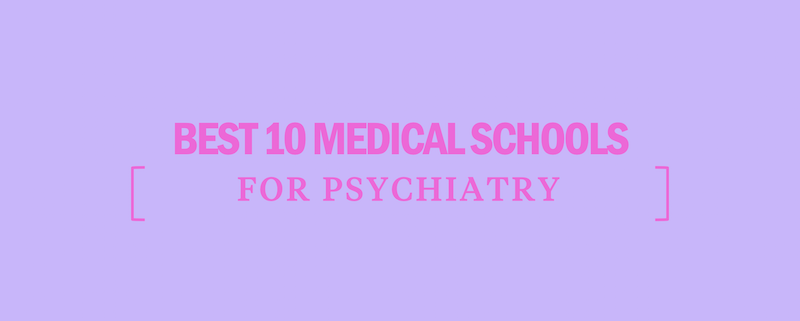 The field of psychiatric medicine is much closer to neurology than it is to psychology. Once you decide on your field of interest as a medical student and get accepted into a psychiatry residency, your first year of psychiatry residency includes at least 4 months of clinical training in either internal medicine and/or pediatrics and at least 2 months of neurology training. Certain illnesses are of interest to both psychiatrists and neurologists, such as dementias and seizure disorders, but psychiatry residents may be especially interested in schizophrenia, mood disorders, anxiety disorders, substance abuse disorders, personality disorders, etc.
As you learn more about the best medical schools for psychiatry, you should know that in medical school, you'll have a chance to experience several areas of medicine before choosing your residency specialty. In the last four years, the number of U.S. medical school seniors matching into psychiatry has gone from 685 in 2014 to 982 in 2018 in 256 programs. According to U.S. News & World Report, here are some of the best medical schools that will prepare you for a psychiatry residency match.
[RELATED:  Browse MCAT Class and Test Options by State ]
In 2018, 7 Perelman School of Medicine at the University of Pennsylvania students matched into psychiatry residency programs. The six-week required psychiatry clerkship involves active learning with a major goal of the clerkship being competency in the use of the mental status exam. There are an additional 8 psychiatry electives, including rotations in addiction/alcoholism and and community psychiatry. The Ivy is consistently ranked as one of the world's most innovative universities, with more than $800 million in annual sponsored research. Other important stats to note are the median MCAT and GPA scores of 520 and 3.88 and a class size of under 160 students.
[ Learn more about Perelman ]
The University of Pittsburgh School of Medicine class of 2022 received close to 6,800 applications for its entering class of 162, with a median MCAT score of 516 and a mean GPA of 3.78. In the 2018 residency match, 9 UPSOM students went into psychiatry residencies, with two of those choosing to further specialize. The Psychiatry Clerkship lasts five-weeks and provides third- (MS3) and fourth-year (MS4) students with a broad view of behavioral health care. There are also many psychiatry electives, including women's behavioral health and neuropharmacology.
With an entering class of roughly 175 students, the David Geffen School of Medicine at UCLA received more than 11,000 applications in 2017, making it one of the most sought after medical schools in the country. The median MCAT score of 517, above the 95th percentile, means you'll need a top score to be considered for admission. Medical students are encouraged to participate in an elective course in psychiatry at one of the UCLA affiliated hospitals. The Psychiatry Clerkship is integrated within the 8-week, full-time Psychiatry and Neurology Clerkship. In 2018, 19 DGSOM students matched into various psychiatry residencies.
[ Learn more about UCLA School of Medicine ]
Match Day 2018 yielded 4 Duke graduates into psychiatry residency programs across the country. Students in the MD programs at the Duke University School of Medicine have learning opportunities in psychiatry clerkships, electives, and sub-internships. Located in the Durham, North Carolina research triangle, the school has strong ties to the community around it. With a median MCAT score of 519, about the 98th percentile, the MD program attracts competitive students from almost 40 states.
Psychiatry was the residency of choice for 5 of UCSF's graduates matching for the first time in 2018. With fewer than 150 of the more than 7,700 applicants to the MD program matriculating, admission is competitive. UCSF draws students mostly from California and its 2018 admitted class boasts 40% of the student body from communities underrepresented in medicine. The median GPA and MCAT scores for admitted students are 3.85 and 517. Students complete a core clerkship in psychiatry for four weeks where they are responsible for psychiatry patient evaluation and participation in treatment planning for patients. They attend seminars related to clinical work.
[ Learn more about UCSF School of Medicine ]
Columbia University Vagelos College of Physicians and Surgeons, also known as P&S, in New York City admitted 140 students to its MD class of 2022. In 2018, 18 graduates matched into psychiatry residency programs, making psychiatry one of the most popular choices for P&S grads. An MCAT score of 519 and GPA of 3.87 could make you a competitive applicant to this selective medical school. The school has an active Psychiatry Student Interest Group, which sponsors several events during the academic year.
Don't let the 18 months of no grades and no class ranking at Yale School of Medicine fool you. It is one of the toughest schools to be admitted to, with a median MCAT score of 521 and GPA of 3.88. Six Yale graduates matched into psychiatry residencies last year. In addition to multiple 4th-year electives in psychiatry, the 12-week integrated clerkship entitled the Biopsychosocial Approach to Health (BAH) includes 6 weeks in Psychiatry clinical settings. Electives include the Psychiatric Care at Hispanic Clinic of CMHC (CMHC) clerkship which provides linguistically appropriate and culturally sensitive training on mental health assessments.
The Department of Psychiatry and Behavioral Sciences encourages medical students to take electives in psychiatry. The department maintains flexibility in its elective programs so that programs are designed to meet the needs individual students. Other opportunities can be developed through direct collaboration of individual students and individual faculty members. In 2017, 8 of Hopkins' graduating students matched into psychiatry residencies. The school, located in Baltimore, Maryland, is highly selective, with a median GPA of 3.92 and median MCAT of 520. Of the 4,654 applicants who submitted secondaries, only 586 were invited to interview for MD seats.
Harvard sent 7 graduates to psychiatry residency programs in 2018. Students can choose from several psychiatry clerkships, including community psychiatry and addiction psychiatry. Advanced Psychiatry clerks spend one month on an inpatient component of the Schizophrenia & Bipolar Disorder Program at McLean Hospital. Located in Boston's medical research hub, Harvard Med is surprisingly small. With a class size of 165, the MD program is highly competitive, with a median matriculant GPA of 3.92 and a median MCAT score of 519.
[ Learn more about Harvard Medical School ]
Best Medical Schools by Major: