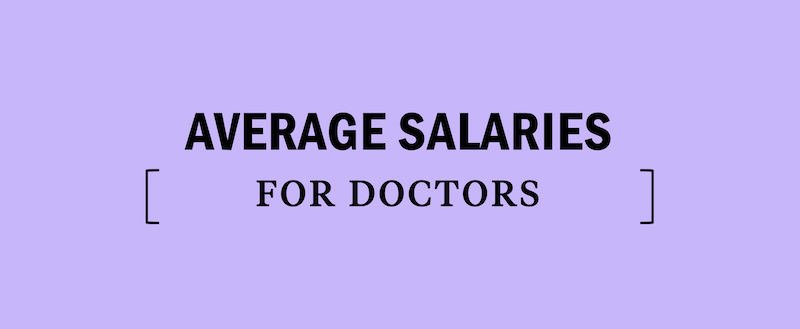 The average salary of a doctor can be an important consideration when you are deciding what field you want to specialize in or whether you want to pursue a medical degree. There are many factors to weigh when considering specialities, and knowing about how much money you might make can help with financial planning, giving you a good estimate of when you can expect to pay off your medical school loans.
According to the Medscape Physician Compensation Report, in 2018, Primary Care Physicians in the United States earned on average $237,000, while Specialists earned $341,000. This marked about a 21.5% increase for PCPs from 2015, and about a 20% increase for Specialists.
[ RELATED: How long does it take to become a doctor? ]
Average Doctor Annual Compensation by Specialty
Here are the top medical specialties, ranked by average income:

Source: MedScape Physician Compensation Report, 2019
Expand for specific figures by specialty:
Orthopedics: $482K
Plastic Surgery: $471K
Otolaryngology: $461K
Cardiology: $430K
Dermatology: $419K
Radiology: $419K
Gastroenterology: $417K
Urology: $408K
Anesthesiology: $392K
Ophthalmology: $366K
Surgery, General: $362K
Oncology: $359K
Emergency Medicine: $353K
Critical Care: $349K
Pulmonary Medicine: $331K
Pathology: $308K
Physical Medicine & Rehab.: $306K
Nephrology: $305K
Ob/Gyn: $303K
Allergy & Immunology: $275K
Neurology: $267K
Psychiatry: $260K
Rheumatology: $259K
Internal Medicine: $243K
Infectious Diseases: $239K
Diabetes & Endocrinology: $236K
Family Medicine: $231K
Pediatrics: $225K
Public Health/Preventative Med.: $209K
According to MedScape, Cardiology and Orthopedics have been among the top five-earning specialities in their annual report every year for the past five years. Pediatrics, Family Medicine, and Diabetes & Endocrinology have been among the bottom five.

Top 10 Earning States for Physicians
Here are the states ranked by income for physicians:

Source: MedScape Physician Compensation Report, 2019
Expand for specific figures by state:
Oklahoma: $337K
Alabama: $330K
Nevada: $329K
Arkansas: $326K
Florida: $325K
Kentucky: $324K
Tennessee: $323K
Connecticut: $323K
Georgia: $322K
Indiana: $322K
Top Earning Metro Areas for Physicians
The numbers above represent state-wide averages. Average salaries for doctors in metropolitan areas tend to be higher. Here are the top 25 metro areas in which physicians are paid the highest average annual salary:
Milwaukee: $395,363

New Orleans: $384,651

Riverside, Calif.: $371,296

Minneapolis: $369,889

Charlotte, N.C.: $368,205

Dallas: $362,472

Atlanta: $362,267

Los Angeles: $356,390

Cincinnati: $354,129

Hartford, Conn.: $352,129

Salt Lake City: $351,300

Bridgeport, Conn.: $348,089

Orlando, Fla.: $347,711
San Diego: $347,154

Phoenix: $347,065

Seattle: $346,721

Louisville, Ky.: $346,206

Sacramento, Calif.: $345,168

Indianapolis: $339,411

Jacksonville, Fla.: $338,790

San Francisco: $338,407

Nashville, Tenn.: $337,914

Kansas City, Mo.: $336,568

Miami: $336,336

New York City: $333,604
Source: Doximity 2019 Physician Compensation Report
Doctor Wage Gap between Men and Women
Paralleling a national trend across all fields, there exists a national gender pay gap in medicine. The Doximity 2019 Physician Compensation Report reported on the incomes of doctors in U.S. metro areas, finding that male physicians earned an average of $1.25 for every $1 female physicians earned in 2018.
Medscape reported a similar trend nationwide, finding that male Specialists earned 33% more than female Specialists, and that Male PCPs earned 25% more. The gap appears to be narrowing each year, however. According to Doximity, compensation for male physicians has stagnated, but increased for women by two percent over last year.

Choosing a Medical Specialty
Although you likely won't choose a specialty until you are well into medical school, you can take advantage of
shadowing opportunities
to not only gain clinical experience for your
application to medical school
, but also to learn more about the specialties you are interested in and get a feeling for the day-to-day life of various physicians.
It's important to note, too, that the specialties listed above do not constitute an exhaustive list. The AAMC provides a full list on their website. The number of specialties and potential careers can be overwhelming at first. But know that as you continue on your journey to med school and residency, you'll learn more about all of the various opportunities for a career in medicine, and will likely zero-in on the type of doctor you want to be.
How To Pay for Medical School
Best 10 Medical Schools by Specialty
https://www.kaptest.com/study/wp-content/uploads/2021/06/average-doctor-salaries-salary-specialty-specialties-medical-school-mcat.png
329
800
admin
http://wpapp.kaptest.com/wp-content/uploads/2020/09/kaplan_logo_purple_726-4.png
admin
2022-01-03 14:00:24
2022-01-03 20:28:42
Average Doctor Salaries by Specialty