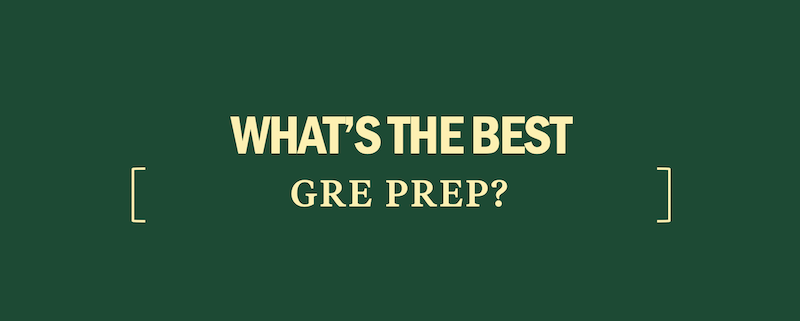 GRE prep is just one part of your graduate school application process but you'll spend as many as 10 hours per week over three months getting ready for Test Day. You'll want to use that time wisely and invest in the best GRE prep available.
Just like you researched the graduate schools and programs you'll be applying to, you'll want to spend some time figuring out what's the best way to prep for the GRE. There are many ways to study for high-stakes exams, but the best GRE prep is the GRE prep that's best for you.
When you consider your GRE prep options, you'll want to think about several factors to help you decide what's the best GRE prep for your unique needs:
How soon are you looking to take the GRE?

How do you study best? On your own? In a classroom? One-on-one?

Other considerations like flexibility, commuting, and work schedule
Once you've answered some of the questions above, you can begin to narrow the options for the best GRE prep for you. Lucky for you, future graduate student, there are lots of ways you can study for the GRE and be ready to conquer it on Test Day. And remember, the GRE isn't an obstacle, it's your opportunity to stand out to graduate school admission committees.
So, what's the best GRE prep for you?
Types of GRE Prep: Pros/Cons
Completely tailored to your strengths, weaknesses and learning style.

Your study sessions will be extremely effective, since you'll be working one-on-one with a teacher.
More expensive than other prep options.
Flexible learning; you can attend class from wherever you have internet access, and if you miss a class you can catch up by watching recorded lessons later.

Taught by the best instructors, with more excellent instructors on standby to answer your questions.
You don't have the face-to-face interaction and collaboration that you'd have with tutoring or an in-person course.
Complete flexibility. 

Study on your time, in your space. 

Cater your studying to prepare you for a specific test date, even if that test date changes part way through your studying. 

Study in the way you learn best. 
No accountability of a teacher or group of fellow students.

It's easy to get off-track; you need to be very self-motivated in order to stick to your study schedule.
COMPARISON: BEST GRE PREP COURSES (2020)
| | Kaplan GRE Prep Courses | Manhattan Prep GRE Prep Courses | PrepScholar | Princeton Review |
| --- | --- | --- | --- | --- |
| SELF-PACED COURSE ONLINE INSTRUCTION | 180+ hours of online instruction | 77 interactive video lessons | Mini-lessons | Online drills and lessons |
| LIVE ONLINE COURSE INSTRUCTION | 21 hours of live instruction, plus 3 hours of 1-on-1 tutoring | Live Online Sessions and Classes | Interactive Classes | Live Online |
| GRE PRACTICE QUESTIONS | 5,000+ (including Qbank) | Thousands of Practice Problems & Drills | 2,107 | 2,574 |
| FULL-LENGTH PRACTICE TESTS | 7 | 6 | 2 | 8 |
| GRE PREP BOOKS | 2 | 4 | 0 | 3 |
| ONLINE COURSE ACCESS | 6 months | 6 months | Unlimited | 4 months |
| COURSE PRICING | $449 (as low as $38/month) to $999 (as low as $84/month) | Starting at $199 | $345 | $499 |
Anyone planning on taking the GRE should plan on using some kind of test prep materials to help them prepare. Going into the GRE cold may work for some people, but the vast majority of people benefit from the added strategy practice, content review, and endurance training offered through GRE test prep courses and books. Read through the following options to find a good test prep fit for you. 
Sessions with a private GRE tutor are productive and tailored to your learning style and strengths/weaknesses. This is a good option for anyone, but perhaps especially those who benefit from having a constant sounding-board and immediate tailored feedback, have trouble focusing alone, or require scheduling flexibility. 
Kaplan's Live Online courses, though offered completely online, are geared toward both those who enjoy the traditional classroom setting and those who prefer logging in remotely. You have the flexibility of attending class from wherever you have internet access as well as collaboration with other students and teacher interaction. 
GRE Self-Paced Online Course
Self-paced courses are a good fit for students with a busy schedule and a strong independent work ethic. The self-paced course provides you with lots of different study resources, so you can choose what works with your learning style and craft a study plan from there. If you have trouble staying focused or you study best with other people, a Live Online or Private Tutor option may be a better fit for you.
Frequently Asked Questions About GRE Prep Courses
Is a GRE Prep Course Worth It?